Last years, New York City, and more specifically Brooklyn, has become one of the places where taxidermy is practiced most. Being a very creative borough, it is the perfect spot for taxidermy fairs or classes, such as the many organized by the Morbid Anatomy Museum.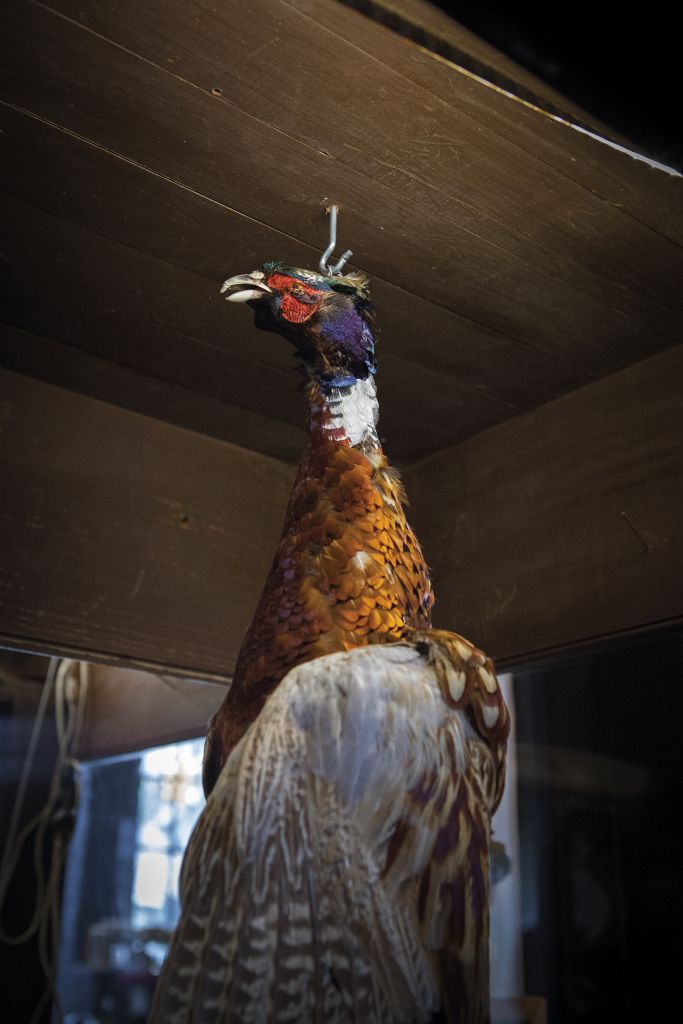 Taxidermy workshops are already a classic and generate considerably interest. Neophytes are usually introduced to this practise with a beginner's session, in which they work with mice or squirrels, which are the easiest to work with. Before starting, ethical issues are pointed out and it is made clear that no animal was killed for the purpose of being taxidermied. Many young taxidermists are concerned with ethical sources, and so only use animals that either died of natural causes, were victims of roadkill, bought dead as food for other predators, or unused animal remains (Maykut, 2015). Carried out in small groups and by following a clear protocol of hygiene and safety and using special instruments, the animal is skinned in front of everyone present. It is fair to say that witnessing or taking part in a taxidermy class feels like a combination of anatomy studies and a butcher's shop.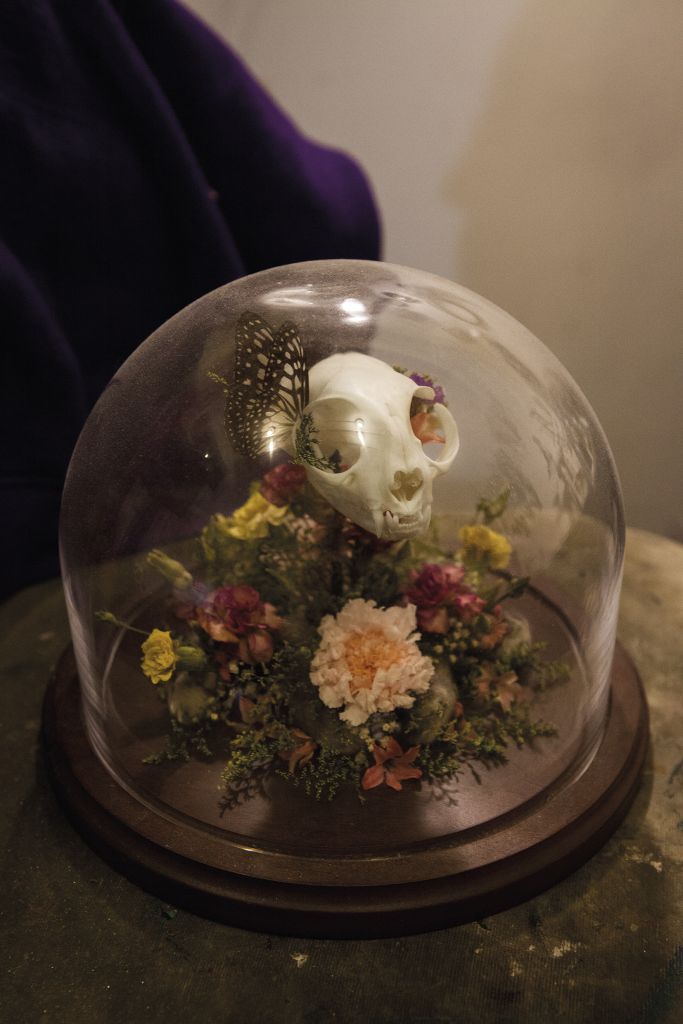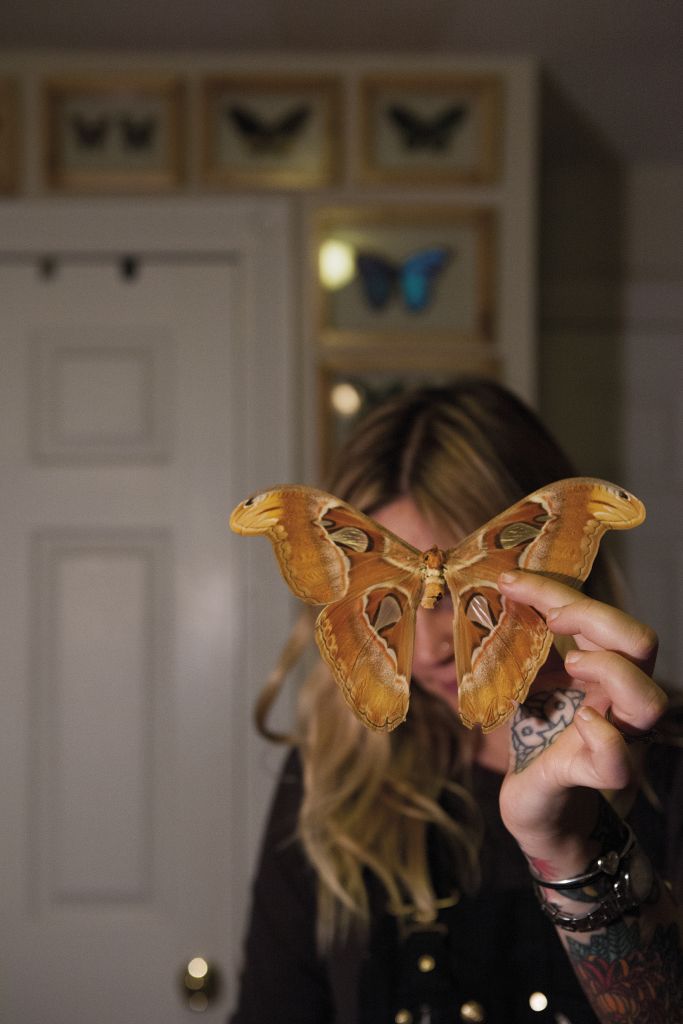 Amber Maykut, who leads these types of workshops, is a talented and enthusiastic taxidermist with a lot of experience in teaching. Some of her classes are devoted to anthropomorphic taxidermy, aiming to bestow upon the animal human traits, often using miniature clothes and accessories. A practise that follows the steps of great 19th century taxidermists, such as the world-famous Walter Potter (Morris, 2008). She states that there are two main typical reactions when taking taxidermy classes for the first time. On the one hand, the majority respond naturally at manipulating the body of an animal, while on the other, some have a hard time witnessing blood or the insides of a cadaver. It might be interpreted as a sign of contemporary detachment from the physicality of death.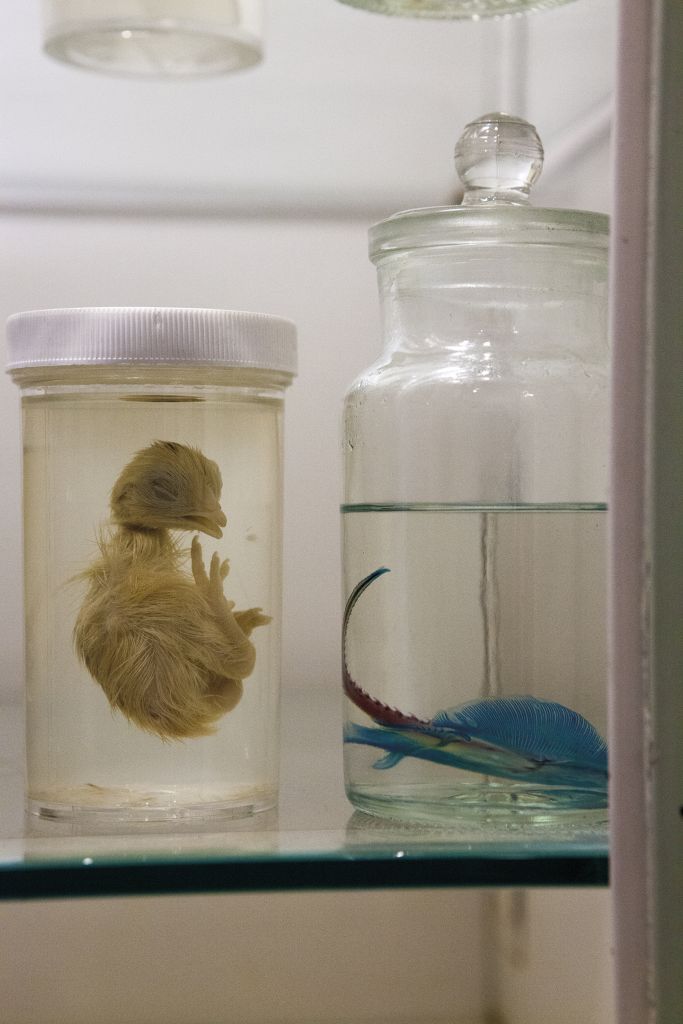 Many of these new taxidermy artists and artisans are characterised by their profound interest in different fields such as art, biology, anatomy or death, which is a reflection of the complexity of the practise, the latter demanding both specific technical skills and scientific knowledge in many areas in order to master it. Among others, Wilder Duncan, Tanis Meyer-Thornton and Amber Maykut, have developed their profession through their own work involving the restoration of vintage taxidermies and teaching. These are passionate and curious self-taught people who volunteer in different institutions such as the famous American Museum of Natural History in New York City (the mecca for any taxidermist) or mentor other taxidermists.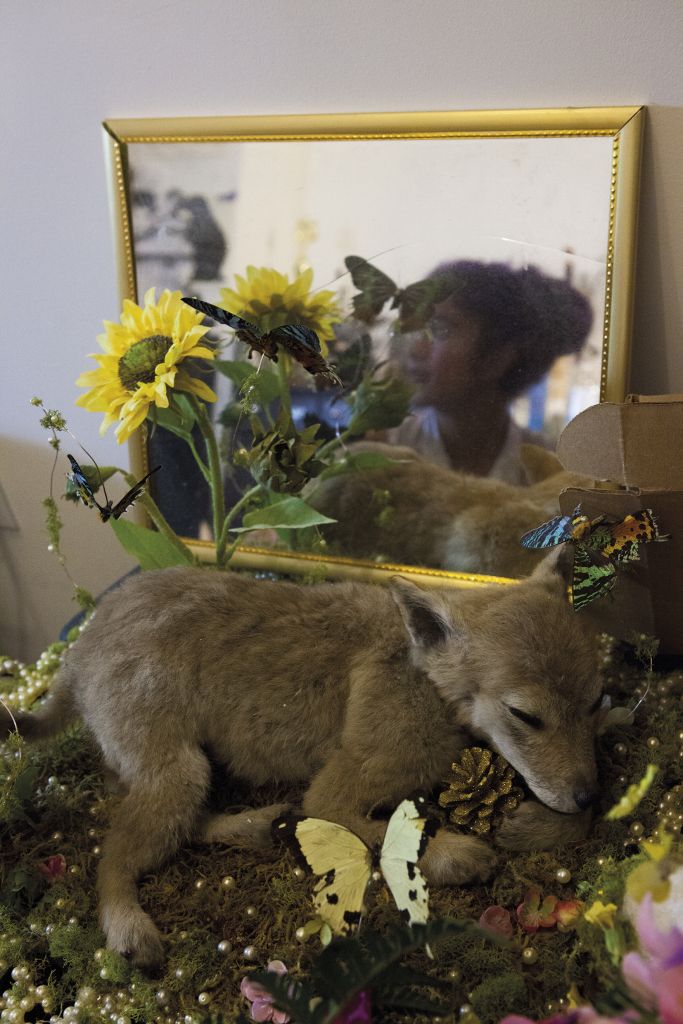 One of these mentors is John Youngaitis, who claims to be the only professional taxidermist with his own business in the city. He perfectly portraits the old-school style practitioner, proud of his profession and who learnt everything from his father, a well- known taxidermist himself. In fact, his store is a history lesson on taxidermy. Some of the pieces exhibited are truly masters of taxidermy, while others, such as certain moulds and dusty specimens, belong to his father's business as well as some big vintage taxidermies acquired for his own collection. He is an expert of taxidermy and has dealt with any kind of specimen regardless of its origin, his sole goal to produce the best and most natural piece possible. However, when talking about pet taxidermy, probably the most bizarre and controversial area of this practise, Youngaitis says that he no longer accepts these types of commissions. This is because previous clients used to come weeping and grieving for their pets, asking for them to be preserved at all costs, but once the taxidermy was complete, they could not face the sight of their beloved pet turning into a lifeless object.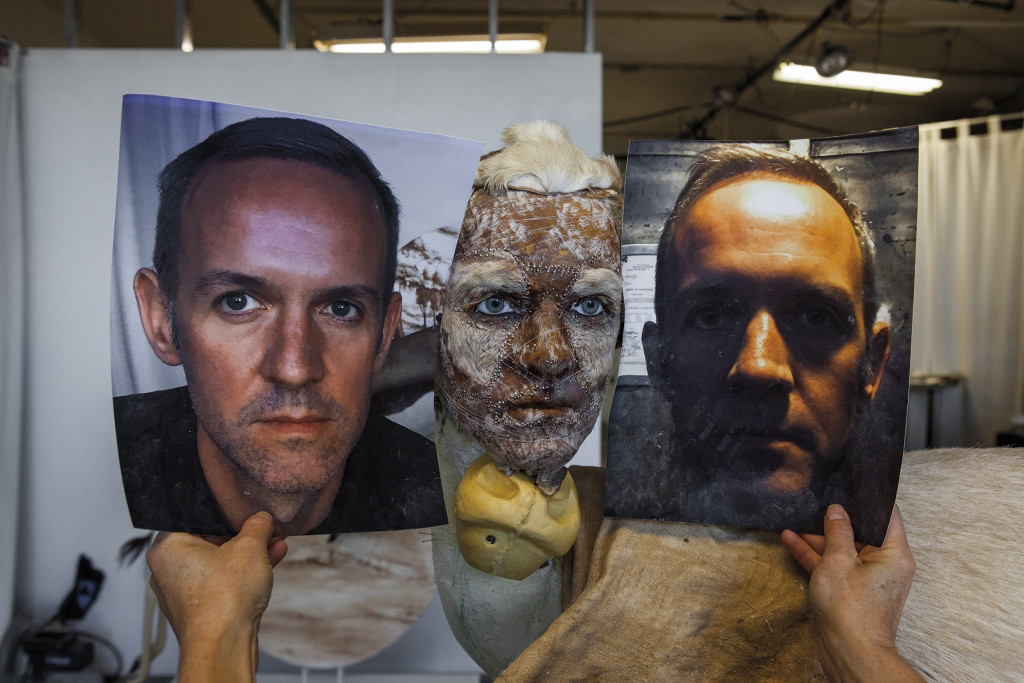 Another talented young taxidermist with experience in pet taxidermy is Divya Anantharaman, known for her creative and dream-like pieces. Upon entering her studio, we saw the artist working with a memorial piece of a group of pet parakeets. The work in progress possesses a strong sense of dynamism, in which the birds truly seem to be alive while their structure is reminiscent of 19th century memorial works. Next to this one, there is another pet taxidermy of a cat. This work only uses the skull and naturalised paws of the animal which is surrounded by a sort of little garden full of flowers. A piece, which some might find strange, is indeed a wonderful work full of delicacy and beauty. Although being familiarised with these types of commissions, Divya does not frequently accept them due to the unexpected reactions of owners. For her, these works might have a positive value only if the owner fully accepts the loss, knowing that what he or she will obtain is the transformation of the body of their beloved pet into something idealised and beautiful, but at the same time inert and dead.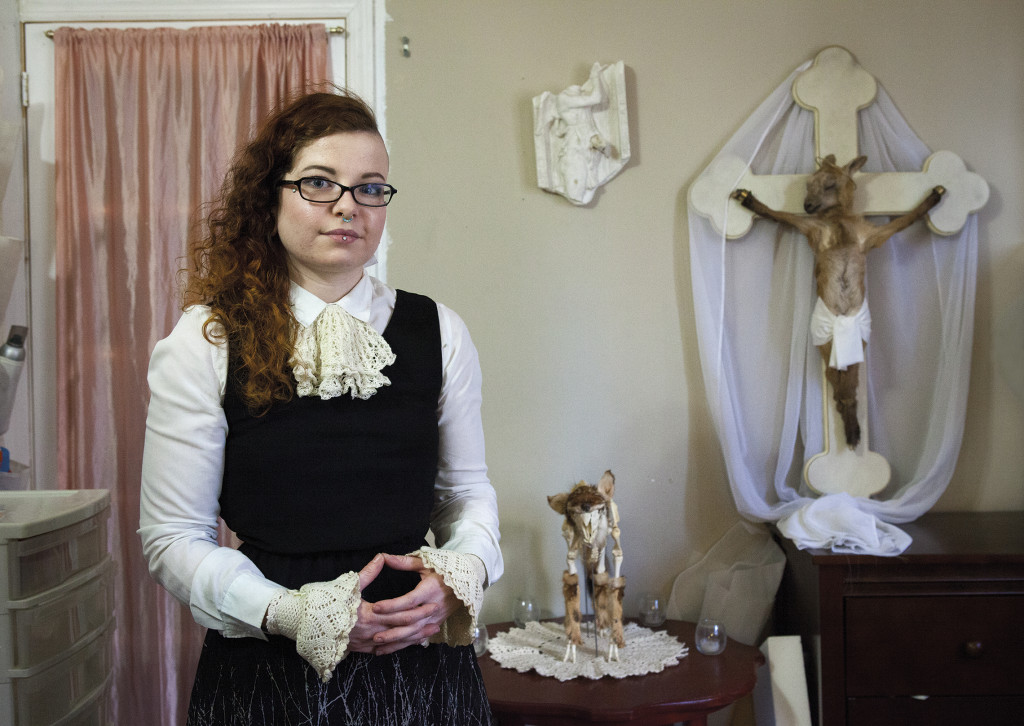 Beyond traditional or memorial works, many contemporary practitioners produce pieces that explore other ways of understanding taxidermy that are closer to the world of art than to taxidermy itself. At the same time, there are more and more artists who are approaching taxidermy as a way of expanding the possibilities and realisms of their works. One of them is sculptor Kate Clark, an established artist, well-known for her disturbing yet fascinating works – fusions of animals and humans. When viewing her sculptures, the astonishing physical presence of these unearthly creatures is balanced with their beauty and the calm demeanour. Although Clark frequently uses materials and processes that belong to the taxidermy world, she does not consider herself a taxidermist. Unlike other artists, taxidermists do not want the process to be the main focus of their artwork, so they prefer to distance themselves from this world. However, the fact that taxidermy pieces and sculptures dealing with taxidermy are increasingly being exhibited together proves the existence of an evolution and diffusion with other mediums of the practise.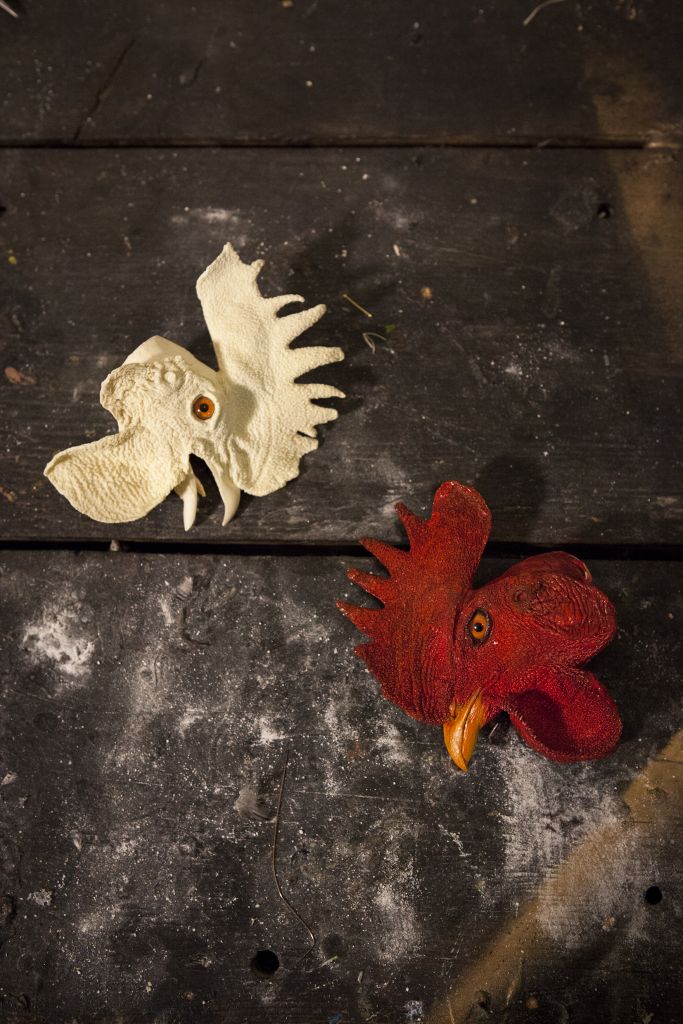 Thus, it can be said that it is death, preservation and the uncanny that are key elements to understanding and addressing both the appeal and/or disgust which many feel towards this practise. Undoubtedly, a piece might provoke a paradoxical reaction of both attraction and rejection, in which the fascination that can evoke the beauty of a well-executed piece contrasts the acknowledgement of facing an incorruptible and inert corpse. These common reactions might be explained partially by pointing out what is hidden from view and behind the surface, which propels the imagination of the spectator into the ideas of abjection, decay or the unknown. Interestingly enough, taxidermy pieces that are produced and exhibited in the context of natural science and research are widely accepted, probably because the context diverts attention from the corpse towards educational values that might justify the use of these works even today (Asma 2001).
As some taxidermists point out, a deeper knowledge of this practise would change the perception of many. In this sense, taxidermy only deals with the external part of the body. The rest of it is artificial; from the moulds employed as a substitute for the skeleton, or the eyes among other parts of the animal, which are created both in an artisan way or bought from various specialised companies in this industry.
Thus, a taxidermy work is not so much a preserved body as it is a cultural object that can have different values depending on the context, its purpose, or the one who longs for it. This practise is therefore a profound reflexion on human fears about their transitory condition in this world.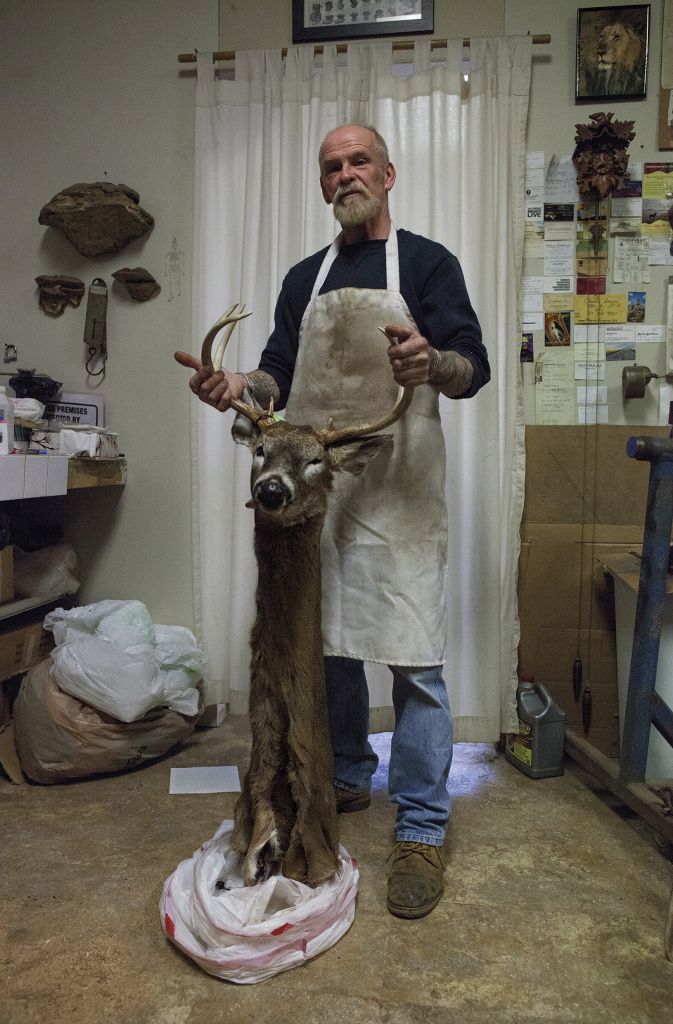 I would like to thank Amber Maykut, Wilder Duncan, John Youngaitis, Divya Anantharaman, Tanis Meyer-Thornton, Kate Clark and Joanna Ebenstein (Morbid Anatomy Museum) for kindly showing me their work and sharing their opinions on taxidermy, death, science and art, making this work possible.
All photographs by Montse Morcate. Courtesy of the author.
References
Asma, S. T. 2001. Stuffed Animals and Pickled Heads. The Cultural Evolution of Natural History Museums. New York: Oxford University Press. https://doi.org/10.5617/nm.3499
Maykut, A. 2015. "Anthropomorphic Mouse Taxidermy Class." In The Morbid Anatomy Anthology, edited by Joanna Ebenstein and Colin Dickey, 406–417. New York: Morbid Anatomy Press.
Morrison, P. A. 2008. Walter Potter and his Museum of Curious Taxidermy. Berkshire: Lavenham Press.