Do you think that dogs can change people's lives? I don't mean changing the daily routines. "I take it out twice a day, so thanks to it, I'm hiking too." Can it provide a new perspective in which the focus is not on the human being? "My dog is everything to me. I live for it!" Not like that. Although I have friends who like it that way. She treats me like a dog, I am a dog, while she thinks that she's a countess! Let me tell you a short story about Atak, a female Labrador. I've changed Nezo's life! Nine years ago, a woman divorced from her husband and separated me from my mother to sooth her loneliness. Two months later, when her husband and she solved their problems, her husband did not want to have me, and she was not alone anymore, so she saw no problem in giving me away. Nezo, who heard this story and got very angry, took me to her home. At home there was an extremely fat cat (Minton) and a white Terrier dog (Vespa). I was so glad that I jumped for joy. The animals in the house were not happy. Each time I hit the cat, she pawed me and the dog didn't get down from Nezo's laps for five hours straight. Finally, she stopped resisting and we started to play together. Since then, she has become my closest friend and sister. We were menstruating at the same time, we were sleeping in the same bed, but we never shared the same platter!
During the day, Nezo goes to work at the university. She teaches photography. Have you ever tried to photograph two dogs side by side, one black, the other white? Ha-ha! Don't expect a perfect result. If you make the exposure according to the white dog, it will be impossible to see me if I do not take my red tongue out. If you do photograph me, Vespa appears as a white spotlight. Moreover, since we are both very active, creating a composition and capturing a beautiful moment requires mastery. That is why Nezo used her experience to explain the Henri-Cartier Bresson's decisive moment in her lessons. Anyway, I was saying that because Nezo was at work, we stayed alone in her apartment on the third floor of a building during the day. We could run around the house and play. Yeah, we were a little messed up, but Nezo didn't complain much. But because we were constantly running around without stopping, the neighbour downstairs had problems. She said: "Clip your dog's nails, please" to Nezo. Hmph! Her neighbour, further downstairs, on the other hand, complains about her heeled slippers. When Nezo went to work, she decided to lock us in a room, because now we were tearing up the squares on the floor. But I can open any door. I have to mention something else. Since I have such a good appetite, I started eating everything in the house. The most difficult part was to open the olive oil bottle but I did it. We drank the whole thing with Vespa. When Nezo came home, our stomachs were already upset. Nezo asked: "Why are you so calm?" And we answered her with yellow, oily vomit. Minton the cat was horrified, but when she tried to run away, she got her share, too. Nezo was terrified that we got sick, but her mind was set at ease upon seeing the empty olive oil bottle. Worst of all, she had to clean up all the vomit because she couldn't let us lick everything up again.
Another thing I enjoyed eating in the house were books. First, I started eating the edges of the pages. The covers of the books were thicker than the inside and some of them were made of leather or cloth. Several books a day were enough for my gut. But there were two books that, I think, forced Nezo's patience to run out. The first one was Gerhard Richter's Atlas, a book I've worked on quite a bit because it was so thick. Imagine something that was very important to your whole life, hundreds of panels of photos and pictures of world history. Life, death, joy, sadness, nature, art, family . . . All the visual burdens of the world were in this book, so by eating the book, I made this burden somewhat smaller. On the cover of the second book, there was a photograph of dogs. I hadn't chosen this book consciously, but Nezo believed I did. I heard her say to a friend: "Atak's eaten the book Dogs of Istanbul. I think it's time to get out of here!" As soon as I heard this I was horrified because I remembered the sad story of this book. In the Ottoman period of Istanbul, a large number of dogs who lived on the streets had been rounded up and sent to an island. The poor dogs then ate each other out of starvation. Apparently Nezo will take me to this island, where I will die a horrible death. When I'm guilty, or rather want to look innocent, I look straight ahead and turn my eyes to hers. Nezo can't stand this look and kisses my neck. If I do the same, maybe she won't leave me.
Orange, mandarin and lemon trees, flowers and insects, a small pool, some other dogs are around … I might be dead and this is heaven. Nezo, Vespa and Minton are also here. Fortunately, she didn't dump me on that island. Instead, we all moved into a little house with a garden. So, I gave up eating books. There was much to play with in the garden, and Nezo's spiritual transformation also began at that time. A few months later, on the same street, we moved to a bigger house with a garden. Nezo brought home other animals, thinking that the space was large enough. Ducks, chickens, turtles, rabbits, a large number of cats, and an injured jaybird. She didn't stop there, and adopted a blind dog from the shelter. She kidnapped a constantly crying dog from another garden. She picked up a puppy that she found hungry, thirsty and sick on the street.
Living with a large number of animals was great, but we had to witness illnesses and even death. For instance, when I picked up a kitten with my mouth, I didn't know that it could die. When I chased the new rabbit, I wouldn't think it would hit its head against the wall and be paralyzed. When the chicks fell into the pool for ducklings, Nezo blamed herself for not foreseeing this could happen. Having woken up, she was appalled to see that the skinny dog she had brought from the forest killed all the chickens. The garden was completely covered with white, bloodstained feathers. Nezo screamed at us: "What were you doing when all this was happening?" We were watching with excitement.
There are very few rules in Nezo's house, one of which is that the toilet seat should always be put back down. The jaybird had no cage, it walked freely around the house. One day it fell into the toilet bowl and was rescued on the verge of drowning. Nezo would cry and take photos of her dead animals. She also took pictures showing her farewell moments with them.
In fact, Nezo started to write a text to be published in the photography journal Membrana. However, my disease progressed. Oh, I forgot to say, I have a huge tumour in my spleen. Since there is no blood bank for dogs in Turkey, a surgery to remove the tumour was simply too risky. I am Atak. I died recently. Nezo must be angry with me because I didn't express my death in a more dramatic way. I ate very well, I roamed around, slept on the most comfortable side of the bed. Everyone loved me so much; I was a happy dog. Let me continue. When I realized that Nezo couldn't finish the writing, I got the pen. I'll try to continue her paper about dead animals, correcting the boring sections she has written.
Photographing Dead People
---
The technical possibilities, developed during the history of photography, gave rise to many types of photography. Undoubtedly, the most interesting of these is post-mortem photography. Before the invention of the photograph, artists used to make post-mortem paintings. This tradition has since been passed down to photographers. Post-mortem pictures and photos are needed to remember the person who has died, particularly if he or she passed away at a young age. The high number of deaths created the need for the photograph. Nazif Topçuoğlu writes about photos of dead children:
In the 1850s, more than half of London's population was under the threat of hunger. In desperation, people gathered in big cities to work. As a result, the family structure was changing, families were falling apart. With the increase in child mortality, it was desirable to have photographs of the children who died. The pictures of the grandchildren – dead or alive – could be sent to the older ones in the countryside. Since the child was in the city anyhow, the photo was the same in both cases. Families also shared the pain in a traditional way. Death was still a reality of life.

(Topçuoğlu 2000, 60)
The decrease in the need for post-mortem photography is proportional to the widespread use of photography. In fact, after the First World War, a different need arose. In this war, which resulted in many casualties, photomontages where produced to help the families find consolation. For example, in the photo studio, family members were photographed together with the photographer's assistant, who was wearing a military uniform. Then the photographer replaced the deceased son's photo with the assistant's face. They were last souvenir photos that were recorded, as if the deceased were still alive and the family was still together.
Thus, the family tried to find solace in the fictitious reality of an unrealized moment. What our mind remembers and what we want to remember changes over time. The photograph can be transformed into a real moment in the viewer's mind.
Spirit photography is another genre that emerged due to similar reasons in the same period. Photographs began to appear where photographers claimed that they could capture the spirit of the dead person through the lens of a camera. However, the only thing the photographer caught was profit taken from the pain of others. The proliferation of belief in spiritualism after First World War stems from the intensity of the pain experienced individually and collectively. That's why there was an interest in spirit photos. Photomontage or not, even if you created it before the eyes of another person, she would still believe that her husband's soul had been stuck onto the photo paper. The living person needs to believe this to continue her life. One of the people who believed in spirit photography was Sir Arthur Conan Doyle, the creator of Sherlock Holmes, the smartest detective in literature. After losing his son and many relatives in the war, the traumas lead him to mysticism. Doyle published an article (1920) on this issue in Strand magazine. It includes theories about the existence of souls and fairies. He claimed that there were photographers who could prove the existence of souls (Simanek 2019).
Today, we distance ourselves from our relationship with death.1 We remember a dead person with the best retouched or photoshopped photos. Marcel Proust, who describes the photograph as a memory tool, tells about a photo of his elderly auntie, whom he could never love. His aunt was wearing a big hat, her face had too much make-up. After his aunt passed away, he realized that his aunt was very ill when she was photographed. That's why she was wearing a big hat and excessive makeup. It was to cover up her illness. It was then that Proust discovered the photo's true meaning.
In addition to the excellent performance of digital photography technologies and photo processing programs, we produce photos in minutes with an infinite range of photo effects that we upload to mobile phones. Our virtual clouds (e.g. iCloud) are loaded with thousands of images that we can't recall and remember. All the aesthetic expressions of the history of photography, unite! Cyanotype with a Cyberpunk effect, readily available, you already look like coloured.
Photographing Dead Animals
---
Human beings have always maintained relationships with animals. We have always feared snakes, we evolved from monkeys, the mythological Phoenix took us into the sky, wolves raised our children, bears became symbols of honour, etc. In our songs, we disclosed problems using animal metaphors. Migratory storks, lions roaring in the mountains, the beautiful sounds of the nightingale were instrumental in defining our emotions. On the other hand, we introduced animals to our children with wrong archetypes in fairy tales. Man divided animals into two types – useful and useless – according to their own interests. And they benefited from animals, dead and alive, which they found useful.
We admired the half-human half-animal mythological characters and wished them to be real. Protector of the forest, half goat half human, Satyr, warrior half horse half human Centaur, and Nymphs, all represent the abundance of nature. It is therefore very likely that Dane Ole Worm (1588–1654) had the horn of a Unicorn in his cabinet of curiosity.2 In reality, it was a narwhal horn. The cabinet of curiosities were places where imagination, curiosity and passion were represented.
Cabinets of curiosities evolved into natural history museums and museums turned into public and informative spaces with more diversity. In natural history museums, skeletons of animals from different ages around the world and thousands of stuffed dead animals filled with formaldehyde are exhibited. In zoos – the natural habitats of the day – there are paintings on the walls of animal enclosures depicting the landscape where the animals actually lived before. In his essay "Why Look at Animals?", John Berger says that landscapes of animals were drawn on walls of zoos, and landscapes related to animals' origins – such as trees for monkeys, rocks for bears, pebbles for crocodiles and shallow water pictures – were used symbolically. Using these symbols has two functions:
[F]or the spectator they are like theatre props: for the animal they constitute the bare minimum of an environment in which they can physically exist.

(Berger 1992, 25)
Why would these animals be kept here in these conditions? I wonder if visitors ever ask themselves this question when they see the artificial decors and read the information board. Similar practices are performed in natural history museums, too.
Photographer Hiroshi Sugimoto (1948) was first influenced by the animal dioramas he saw at the American Museum of Natural History in New York and began photographing them. At first, stuffed animals placed in an area, where their habitat is painted in the background, creates a sense of falsity. However, when we look at these photos, they look extremely real. A viewer who does not know where these photographs were taken may think that the pictures were taken in the natural environment of animals. Sugimoto is a photographer who produces projects that question the conceptual context of photography. "Suppose you shoot a whole movie in a single frame?" The answer: "You get a shining screen," he says, describing his Theatres project (Sugimoto n.d.). A white screen appears as a result of the exposure of a film shown in the cinema room for about two hours. In fact, the entire film is recorded on that white surface. How far can we go beyond what we see when we visit natural history museums or zoos?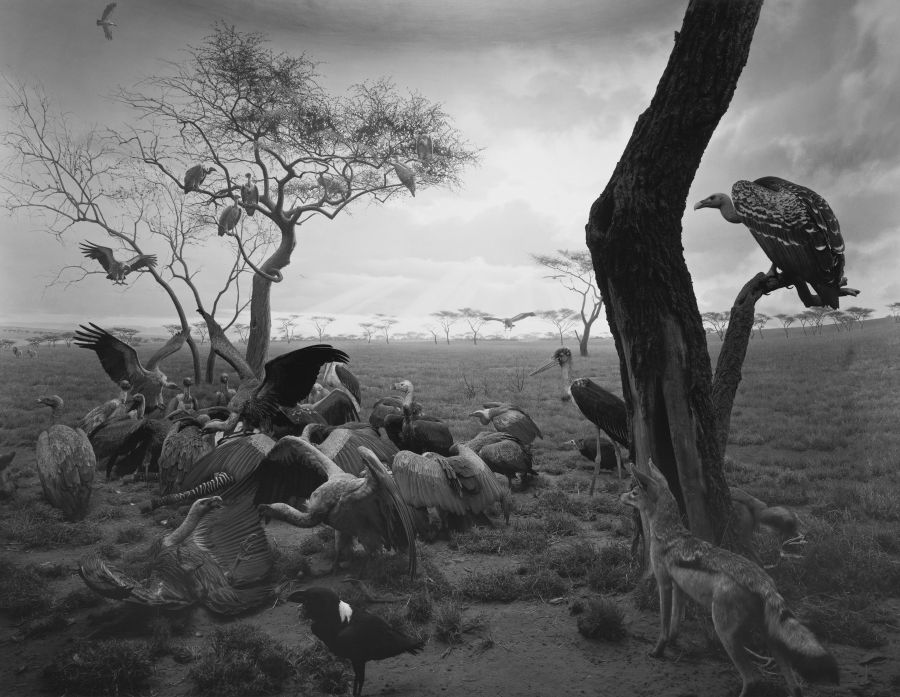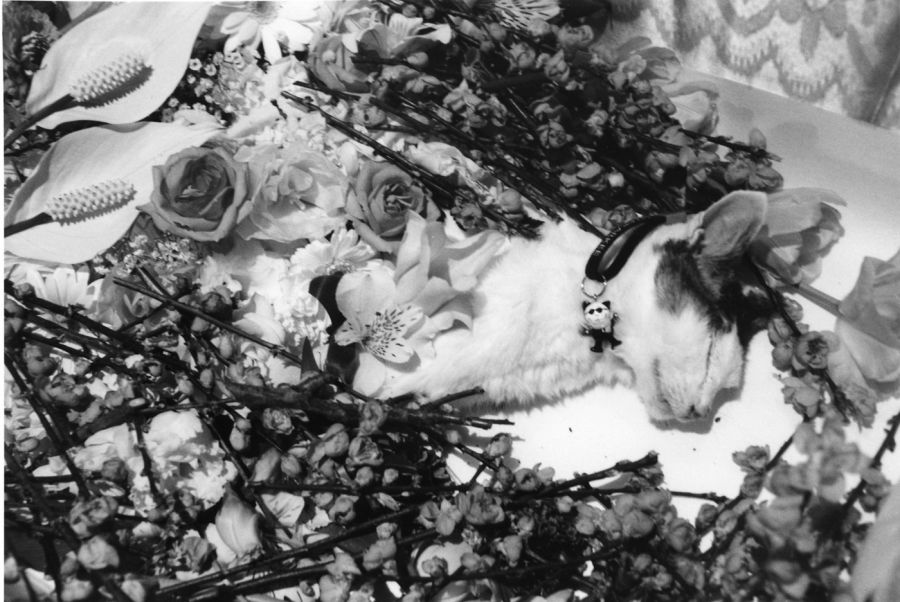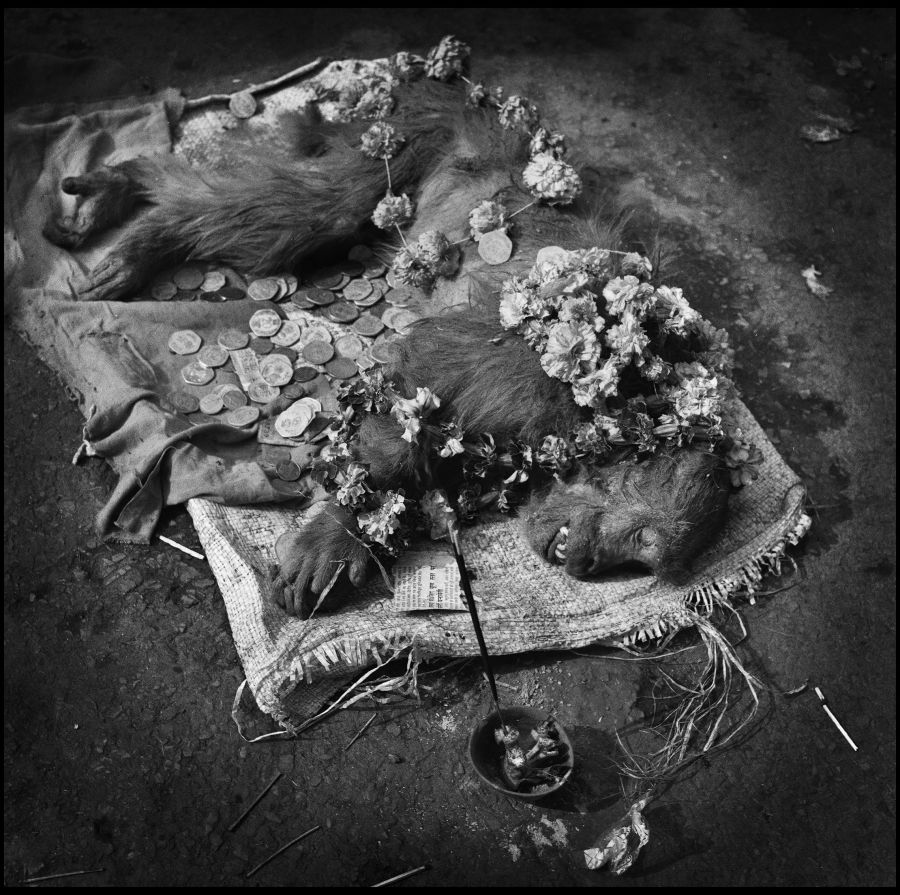 "Nature is cruel and necessarily so. Man is cruel but not necessarily so!" says Norwegian philosopher Arne Naess (cited in Devall 1990, 33). In an anthropocentric understanding, nature is no more than a resource created for man, with which he can satisfy his needs and exploit. Animals are also seen as automats. In environmental ethics, however, it is accepted that all natural assets and systems deserve moral respect because they have a value on their own. (Çüçen 2011). Photographer Lynn Savarese expresses her gratitude to the bird species in her study, Still Life Aviary:
Still Life Aviary attempts to address the ethical challenges [the abandoned specimens of taxidermy birds] present, as well as their power to convey the endangerment and threat of extinction many bird species face today. Despite their tragic circumstances, these specimens still exude great personality and dignity. Rarely are life and death portrayed with such quiet force and wonder. Paying them tribute became, for me, an almost reverential mission.

(Savarese n.d.)
"Such a dark place where dead is ever present. There is just this poetic chaos to it, a beautiful urgency," says Michael Ackerman about Benares in his photobook End Time City (1999). Benares is a sacred city in India where the dead are burned at the banks of the Ganges River. Ackerman's photos are dominated by the feeling that humans and animals are equal, whether they are dead or alive. The dog on the street, the ox and the monkey are similar to people, they enjoy the same respect. A dead monkey adorned with flowers and a dead person burned in a ceremony; wanderer dogs and people; the ox's corpse and the human corpse at the edge of the water; a baby monkey held in his mother's arms and another monkey wrapped around a man's neck and clutching his shirt. "Animals are becoming an increasingly bigger part of our lives, our inevitable loneliness. They complement our human or spiritual side that we are deprived of." (Batukan 2016, 26)
For photographer Nobuyoshi Araki (1940), life is a journey, and taking photos is an emotional journey. In Araki's photo book Diary Sentimental Journey/Winter Journey (1991), the first part consists of the honeymoon photographs with his wife; the second part includes photographs of his wife's illness and death. Photos of love, life and happiness move towards sorrow and death. A journey to life and a journey to death. Araki uses the photograph as a visual diary expressing his feelings. It is possible to feel a sense of loneliness and sadness in photos taken in the house and on the street in his daily life. Araki wants us to witness the good and bad moments of his life with his photographs. In another book, the cat we have seen with his wife is shown weaker by age and dying. Post- mortem photographs of his wife and cat are portrayed side by side.
Although we live in an age where communication technologies are on the rise, we are becoming lonelier. In Soichiro Koriyama's photography project Apartments in Tokyo: Kodokushi we see rooms without their residents. In Japanese, Kodokushi means 'lonely death', especially used to denote death of single people of sudden disease, it also indicates their inability to ask for help while living alone in their houses. However, its definition remains rather vague. It is said that there are now an estimated 10 to 20 kodokushi deaths per day. (Koriyama 2014)
Photographing My Dead Animals
---
I take pictures of dead animals that I saw on streets. At first, I wasn't sure why. I realized later that when I was taking pictures, I talked and spent time with these animals. I think about various things: Has it been here for long? Looks like it got hit by a car. Its eyes are open. Will somebody come by and remove the corpse? Can I do it?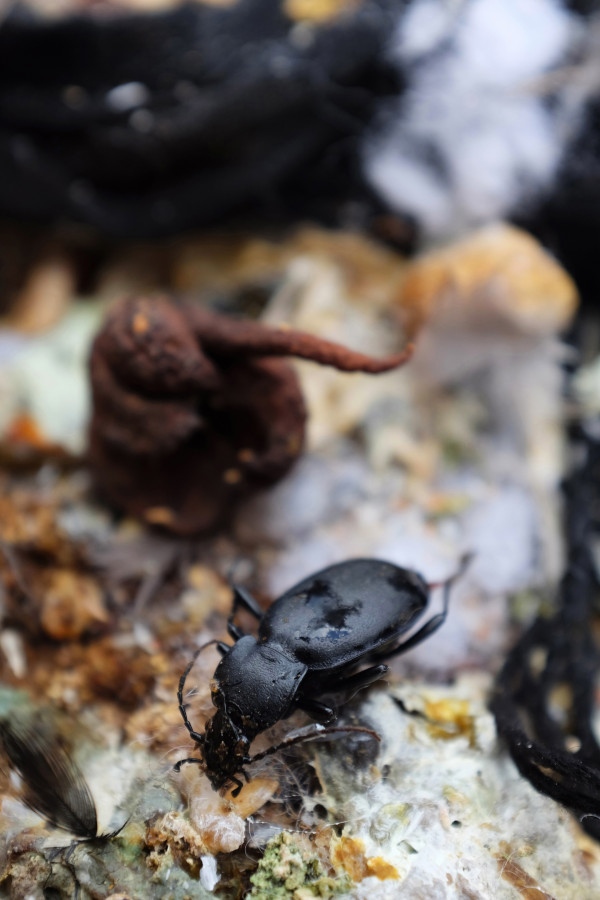 I was seeing the corpses of beetles, butterflies, and bees. I began to collect them. After a while, I began to worry that I wouldn't find any more cadavers. We celebrate the arrival of spring and blossoms. Orange and lemon blossoms make us dizzy with their scent. In the past, when smelling the flowers of trees, I used to be careful not to insert my nose in a flower that contained bees. But now I only come across a few bees in the whole tree. "In the last few centuries, people have been so busy building their own ego that they couldn't (didn't) hear the sound (silence) of nature and animals." (Batukan 2016, 37) In my ongoing photo project, I create scenes where dead insects come back to life. They come out of nature – destroyed by humans – and breathe life back into it.
I knew a woman who died years ago. At that time, I was a student at the photography department. I used to take photos on special occasions like weddings and birthdays. Similarly, I photographed the funeral from beginning to end with the thought of giving these photos to the husband of the deceased. I printed the pictures and gave them to the man. Five minutes later he came to me horrified.
"Has anyone seen them, has it been published somewhere? Give me all the negatives!" he said. I was so surprised and upset. I wasn't going to do anything with these photos. I've witnessed more deaths over the years. I took pictures again. These are their last photos before they disappeared from the world.
"Traumatic cases are very difficult to photograph, also the most difficult experience to remember." (Burnett 2012, 56) We want to forget painful events; we avoid things that remind us of them. That's why we cut or burn photos. The story we remember is often incompatible with reality. Even if a photograph has been taken with the intention of registering a document about reality, everyone who looks at it will remember a different story. Even though the photograph belongs to a moment, the layers of its meaning may change according to the beholder. Pictures of dead animals are sad because we were happy once. If we're saying goodbye, it's because we want a fresh start. These photos remind us of the entire process, and not of a process that has already ended.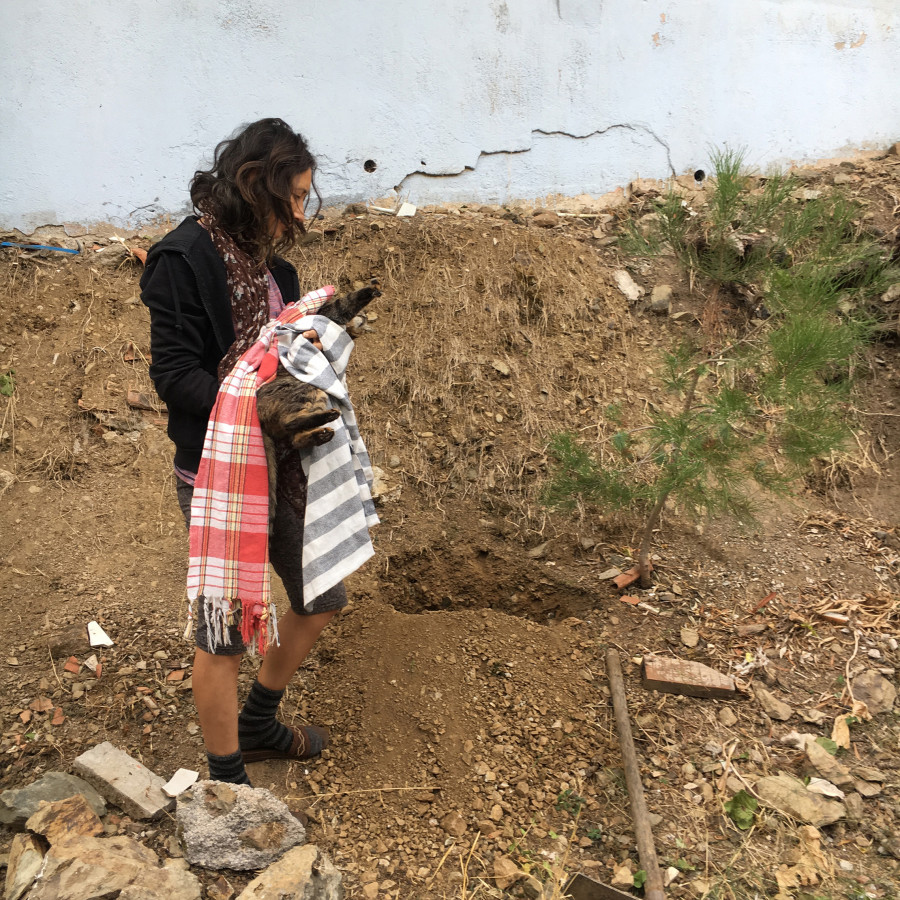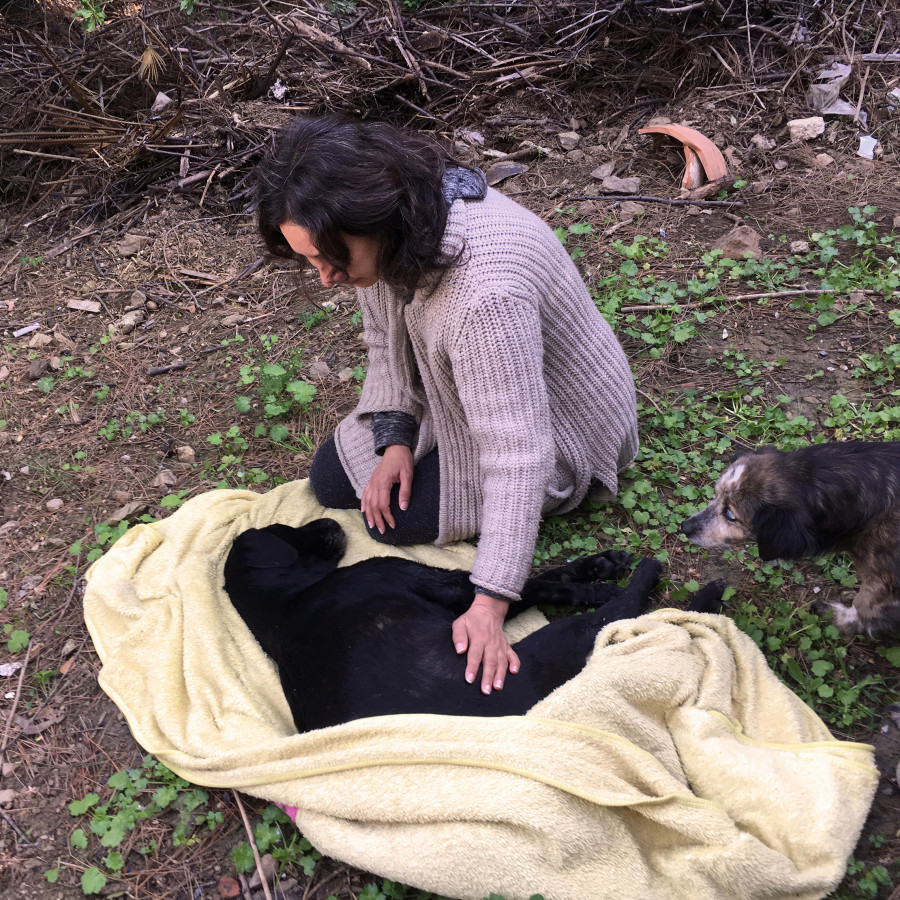 Translated by Barış Yıldırım.
References
Ackerman, M. 1999. End Time City. Italy: Scalo.
Batukan, C. 2016. Anima-lizm. İnsan, Hayvan ve Bitkilerde Ruh Üzerine. Istanbul: Altıkırkbeş.
Berger, J. 1992. "Why Look at Animals?" In: About Looking. Vintage.
Burnett, R. 2012. İmgeler Nasıl Düşünür?. Istanbul: Metis.
Çüçen, A. 2011. Derin Ekoloji. Accessed June 2, 2019. Available online here.
Devall, B. 1990. Simple in Means, Rich in Ends: Deep Ecology in Theory and Practice. Green Print.
Koriyama, S. 2014. Apartments of Lonely Deaths in Tokyo. Accessed March 30, 2019. Available online here.
Picq, P., Digard, J.P. 2015. Hayvanların En Güzel Tarihi. Istanbul: İş Bankası Kültür Yayınları.
Savarese, L. n.d. "Still Life Aviary." In: Lensculture. Accessed January 9, 2019. Available online here.
Simanek, D. E. 2019. Arthur Conan Doyle. Accessed March 19, 2019. Available online here.
Sugimoto, H. 2019. Accessed June 2, 2019. Available online here.
Topçuoğlu, N. 2000. Fotoğraf Ölmedi Ama Tuhaf Kokuyor. Istanbul: YKY.
Notes
Dark tourism is a holiday concept that has become widespread in recent years. Travels to places where a large number of deaths occurred due to human or natural disasters (e.g. concentration camps, Chernobyl). Those who prefer to visit places of death may have the need to understand what happened in history, to have empathy, to have a personal connection, or to have a different sense of holiday, a need for a new type of adrenaline. After all, looking at the suffering of others is easier than facing the pains in our personal history.
In German, the word Wunderkammer, which means room of wonders, is also used. They are considered prototypes of museums. The first examples appeared in Europe in the 16th century. These rooms include natural history, animals horns and skeletons, minerals, plants, geology, ethnography, archaeology, manmade objects such as old small sculptures, automat watches, religious and historical relics, mythological and exotic objects. They have been brought from far geographies by the aristocrats, traders and scientists.