They were already seated at the table, the cards had been shuffled and dealt – and faced with something other than a dead man's hand, an insight had inevitably made itself known to each of them; admittedly with the time lag that occurs as thought propagates across distracted glances.

All five of them were now aware … that he had taken them for granted.
We devised the idea of a new video installation and filmed it a good month before the actual outbreak of COVID 19 in 2020. Truly, we could not foresee a scenario where we would end up shaping the final rendition of Verfünfungseffekt during a global lockdown. It is bizarrely noteworthy that self-isolation would become not only the subject of the piece, but also – due to the unforeseen spread of a recently mutated virus – the prevailing circumstances under which the work was to be completed.
Five men have seated themselves at a table with five decks of cards. The cards are already shuffled – but not the next time the men sit down, so they must be reshuffled and cut before the round can start. As the spectator grows accustomed to the notion that these five are one and the same, even this starts to slip away: one of the men shifts his gaze briskly and a split second early. He has extracted himself from synchronicity through this barely noticeable con moto. He is obviously bewildered, all the more so as the other four remain staring at their cards. Has he come to realize that he is a clone, a mere reflection of the others? Through this insight, he confirms his own being. He exists – in the sense that he stands out of- and in-time and space. A moment later, he slips furtively back into unanimity.
This becomes the guiding principle for an existential composition in video form in which one after the other the five individuate and thereafter return to the collective. Soon, everybody is out of sync and a cacophony of fragmented perceptions of reality follows.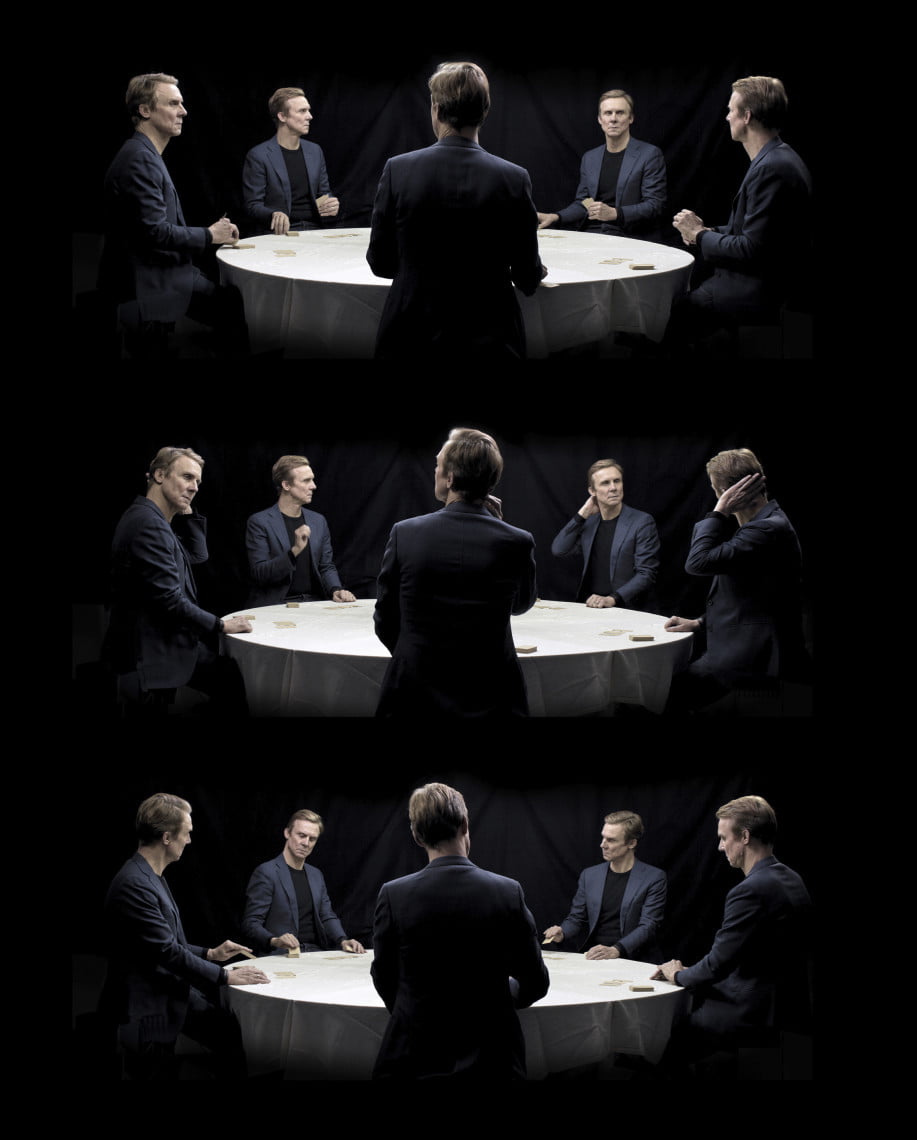 Extreme isolation warps the brain and when you are truly on your own, the mind may push your sense of reality down a labyrinth of Kafkaesque corridors. Concocting imaginary companions is not the mere product of an involuntary hallucination; it is a magic technique for handling the "crisis of presence". Shipwrecked seafarers marooned on deserted islands have been known not only to anthropomorphize inanimate objects, but also to create illusory cronies to share their solitude with.
Our screen-quarantined card-playing castaway is stuck in an endless loop of auto-referencing. One starts looking for the slightest discrepancies: a movement of the hand, a finger lingering on the deck of cards a tad too long. While one's mind is stuck on a single detail, the other versions of oneself have moved along and are now staring at each other – bewildered by the identical look on identical faces.
How did this selfie-turned-self-referential-groupie in quintuplicate format come into existence?
As autodidactic anthropologists outside the mainstream of contemporary art, we often go hunting for "curiosities" – effervescent expressions that keep their distance from high culture. We run the gamut between thrift stores sporting creepy figurines and shoeboxes filled with orphaned photos; flea markets with piles of gadgets and obsolete hardware; and antique stores with withered Baroque effigies and miscellaneous oddities. In our hands, quirky artifacts such as these transmute through an alchemical process into experimental video art installations.
During our latest media-archeological rollick, excavating 19th-century technology-enhanced magic, we uncovered an intriguing form of vernacular photography gone extinct.
The photo-multigraph, or "trick mirror" technique, was patented by H. P. Ranger in 18931 as a device composed of two adjustable mirrors set at an angle. When a subject was placed in front of it, his or her image was reflected in each mirror, and that reflection was then again reflected, resulting in five or more figures (depending on the angle of the mirrors). The photo-multigraph gained popularity as a money-making scheme at side-shows, holiday resorts of all kinds, and amusement areas along the US eastern seaboard – especially in Atlantic City with its famous Boardwalk.
The photo-multigraphs appear in a number of formats, but most often as real photo postcards (RPPCs) with the high point of their popularity in the period between 1900 and 1920. They are also sometimes referred to as fivefold-portraits – which might be a more suitable name for the photographic process, as multigraphs are now associated with mathematics.2
Venturing into artistic research of the lost promises of the photo-multigraph, we submerge ourselves into an enchanted world of cloned appearances in a self-reflecting solar system of multiple presences. Filtered through our preferred artistic medium, moving images, this turn-of-the-century photographic technique is reborn as a video-multigraph.
As media artists, we are no strangers to conjuring tricks like those of making men fall head over heels, women turn without moving their feet, and children fly off the screen. We fancy ourselves as sleight-of-hand media magicians who make pictures perform, in search of an "otherworldly temporality" through manipulations of time and space.
Verfünfungseffekt, like all our later works, dialogues with Ernesto de Martino's seminal work on ritual/magical practice (1966). An Italian anthropologist and historian of religions, de Martino, defines "crisis of presence" as a condition in which the subject (a person or an entire society) is put at risk by living through traumas such as displacement and distress. It is exceptional, however, for an affliction that puts existence at risk to become a global concern (1966). But here we are, in self-afflicted solipsism amidst the current COVID-19 pandemic.
The loss of "domestic references" and "signs of meaning" are events that can undermine the presence of the self, leading to a growing sense of disorientation. What de Martino was referring to are the social and existential experiences of subjugation, migration, and alienation, which force the subject to face his/her crisis as an autonomous and defined presence in the world.
Magical rituals often come into play in such situations in order to surmount the passivity brought on by alienation. In Verfünfungseffekt, extracted movements and performative comportments are situated outside the daily grind of indeterminacy as choreographic figures that "step out of time".
While practicing "our magic", we solicit the swayed certitude of a skeptical beholder, who is looking for clues that the whole deck of cards is made up of separate parts stacked together. A successful manipulation in our trade (the art of compositing) is referred to as "seamless", which relates to the granularity of presented information: there has to be just enough detail to make the arrangement believable.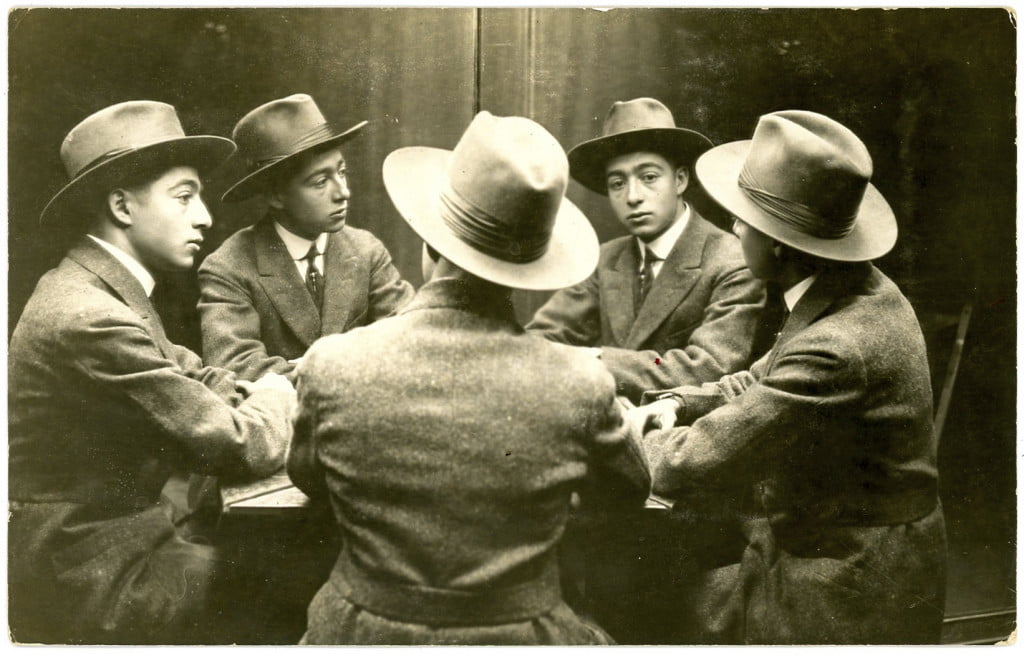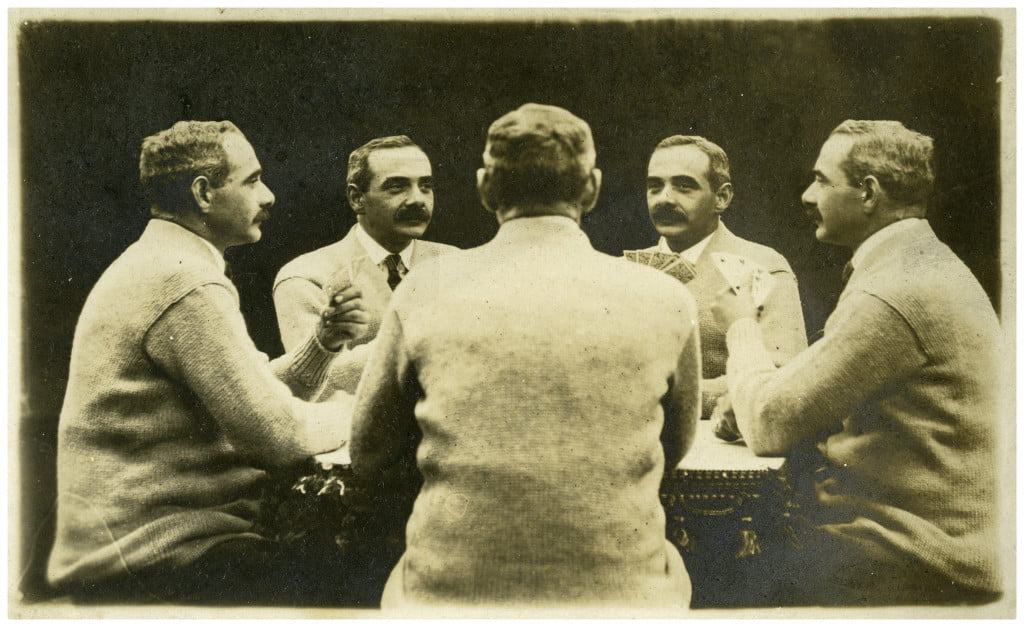 In order to achieve this, we use all the conjuring techniques of the magician while creating Verfünfungseffekt: manipulation, misdirection, and empathetic engagement with the audience. Lacking any of these, it would be difficult for the spectator to be drawn in and willingly deceived, albeit momentarily.

The magician-as-artist stands apart from the magician-as-trickster inasmuch as the former's intention to deceive is plainly acknowledged beforehand, and conclusively reaffirmed in hindsight. The video-multigraph was designed not only to create the illusion of magic, it is in itself a ritual that allows us to willingly step out of everyday historicity.

In many acts of magic, the assistant is not just a distraction but often the one performing the actual illusion. Verfünfungseffekt could not have been realized without the actor Simon Norrthon – charming and sinisterly unreadable.

The ritual of magic involves such a transformation: a face that can convey various expressions depending on the viewing angle. Curious viewed from the left, sulky seen straight on, and libidinous eyed from the right. This multifacetation discloses the question: how many misunderstandings have arisen from unintentionally exposing someone to our "bad side"?
The skillful actor owns his face but entrusts it to the outside world for viewing and allows its expression to be read in accordance with the situation. Whereas the photo-multigraph reveals a directional multifacetation of the face in a frozen snapshot, the actor displaying Verfünfungseffekt maintains the same ambiguity extended through time and space. The camera acts as magnifying glass, which registers coldly and intractably.
The video-multigraph is an acid test for an actor's ability to "keep a straight face", that is, to surpass the naturalistic monotony and the pathetic risibility of simple emotions. Seeing a genuinely skilled actor manage such a task is part of delighting in the work. It can be likened to the experience of watching an athlete overcome oneself, one's nature, even nature itself. The difference is that where the athlete exercises an astonishing degree of control over one's body, its musculature and its relation to the forces of nature, the skillful actor exercises breathtaking control over frames of mind and inner moods – such to the extent that one ceases to be an actor in control of – now becoming one with – one's material, oneself.
What we artists do in this case is clear and straightforward. We design the material conditions required for this magic to occur: a chair, a table, and a deck of cards in a claustrophobic room. We place one man in self-isolation, at the mercy of himself and his mirror image, limiting his freedom of movement by the millimeter so as not to collide with his own reflection.
Completing this opus through a labor-intensive post-production process elevates the work from a mere photographic curiosity to a full-fledged existential symphony. Appropriately enough, we are forced to undertake this labor under similarly isolated conditions as when we were filming.
The video-multigraph allows for the compositing of tiny offsets in time-shifting delays applied to one, or several of the mirrored selves, shattering the cloned perfection as well as the conformity of the multiple selves. The optical illusion necessitates reflection on how media alters our perception of time and space; it thereby arouses wonder about our place in existence.
In Verfünfungseffekt, we use the medium of video to create a kaleidoscopic portrait-in-motion where the perspective-shifting shards of ego are recorded in a synchronized performance of solipsist intersubjectivity. The fivefold-video portrait subverts the usual technological meaning of the photograph as "unambiguously capturing reality". By multiplying the image, it instead shifts focus to "the multiplicity of being".
A single man – but look, five different persons.
Often seeing eye to eye
as bosom buddies do.
But bickering on occasion,
each to his own self true.
Life continues inside our current solitary confinement. It has to. Even though, for the time being, we are at a global standstill with a rampaging virus. The indeterminacy of what kind of world we will end up living in produces a bittersweet sense of melancholia. The menace is not that of an external entity or force, such as an approaching meteor falling from the sky or the military siege of a city surrounded by gloomy mountains. Instead, we have to direct our decadent urges of avant-la-déluge abjection to an inner trajectory, facing no one else but ourselves as digital reflections on various screens communicating with other screens in confined spaces.
Verfünfungseffekt is a video art piece intended for viewing at an exhibition. Currently, we don't know how and in what configuration it will be shown, as public exposure of anything post-COVID-19 is in the air for now. A projection might pierce the darkness of a regularly and meticulously sanitized room: a single viewer, no crowds, no opening – a one-on-one encounter with the gleaming images of a man being alone with himself.
That might be the future in a nutshell.
The real magic is and will always be an aesthetic conspiracy to rewire the perception of reality in favor of chaos, to overthrow God, the masters of the universe, and let the fallen one have his way.
References
De Martino, Ernesto. 1966. Sud e Magia, Milano: Feltrinelli.
Reichstein, Irving. 2007. "A Multigraph from Montreal." Photographic Canadiana, [online] 33 (1): 12–17. Available online here.
Notes
Although records are found of the patent, the actual origin is not decisively Ranger's. The nineteenth century gave prominence to a plethora of photographic and popular science journals and books with articles about all aspects of photography from chemistry to marketing. Due to the rampant plagiarism, content was swiftly pirated and adapted, making it hard to determine where a story originated. For those interested in the history of the photo-multigraph, Dr. Irwin Reichstein (2007) makes for fascinating reading. His research into old photographic journals shows that the first mention of the photo-multigraph is in connection with a photographer named James B. Shaw, born in England ca. 1850 and owner of a gallery in Atlantic City.
A series of online five-fold portraits can be found at Heinz-Werner Lawo's blog/online exhibition Uneinsamkeiten/Unsolitudes. Available online here.