Brazil is currently home to 255 different indigenous peoples, spread out across the country's vast landscape. They comprise only 0.47% of the total population, which is far less than the percentage of indigenous populations in neighbouring South American countries such as Bolivia and Ecuador, and Central American countries such as Mexico and Guatemala, which have a significant portion of indigenous populations. Brazil's índios have been a focus in the media, especially in relation to urgent talks around climate change and the deforestation of the Amazon. The territory known today as Brazil was discovered in 1500 through expeditions led by the Portuguese, the land is known to have been called Pindorama 1 and to have been inhabited by over 1000 different indigenous peoples, with an estimated population size somewhere between two to four million. Indigenous people have been victims of massacre, genocide, biological and chemical warfare, torture and rape;2 still today, as land defenders, they are targeted by illegal land invaders (miners, loggers, and farmers), and subjects of the political tactic of cultural assimilation. It was only in 1988, through the rewriting of the Brazilian Constitution (which followed the end of the 1964–1985 military rule) that their rights to land, and rights to their own cultures would be secured. Today, these land rights, which were hard earned through the strengthening of a national and global indigenist movement, are under threat. Indigenous reserves are protected lands, which recognise its native inhabitants as its originary peoples, reserves make up 12% of the country's territory. This does not give native people ownership of the land, but an exclusive usufruct of it. I often hear this percentage dichotomy expressed in disdain: "why should less than 0.5% of the population have 12% of Brazilian soil and land," as if it were ever comparable to the statement that "the richest 10% of Brazilians earned 50% of the countries income" (Agência IGBE. 2018). Indigenous reserves are one of the most effective ways to protect the Amazon forest. Protecting the indigenous communities of Brazil and their right of land directly affect the protection of the forest, which has huge fallbacks on climate change and wildlife preservation in the world's largest tropical rainforest. To increase their exposure and show the world what is happening in Brazil, some natives have resorted to new technologies. In the case of the Kayapó, shortwave radios were used in the 1970s as a method of self-defence.
As far back as the 1970s, Kayapó warriors patrolled the borders of their territory with shortwave radios and did not hesitate to attack (and sometimes kill) invaders. When the Brazilian military tried to dump nuclear waste on Kayapó territory in the mid-1980s, the Indians reacted strongly and made national headlines; the military backed down" (Rabben 2003, 21).
As technologies advance with time, become more affordable, accessible, and portable, more examples can be found of their usage for purposes like these, as well as for heritage preservation, the safeguarding of traditions and languages.3 There are many examples of radios, cameras and mobile phones used as to support the indigenous movement. An often overlooked area of photography is its usage by marginalised groups as a tool for self-defence. Images provide evidence and proof of foul play which can be taken to authorities and shared globally. A global audience is critical, especially at a time when Brazil's doors are aggressively shutting. President Bolsonaro, who took office on January 1, 2019, has been vocal about his adverse sentiment towards the indigenous, quilombola4 and LGBTQ communities. One of his first orders as President was to transfer the creation and regulation of existing and new indigenous territories to the Ministry of Agriculture, which is strongly tied to the farming lobby. A series of events which led to the weakening and discrediting of forest protection agencies, and the empowerment of illegal land invaders caused a dramatic 278% increase in deforestation as of July 2019. In addition, Bolsonaro fired the director of INPE5 Ricardo Galvão, in early August 2019; the Institute is responsible for monitoring and producing data pertaining to the deforestation of the Amazon. Environmentalists believe this move was one of many Bolsonaro plans on using to hide and manipulate scientific data. As I write this article [late August 2019], the Amazon rainforest is burning uncontrollably. Fires began around August 10, and are as of August 25 still consuming vast territories, so catastrophic that smoke is reaching the city of São Paulo, almost 3,000 kilometers away.
I interviewed Gabriel Uchida, a photographer living in the Amazon, about his photographic series "Travelling Through the Territory", a collection of images which were collected by the Uru-eu-wau-wau throughout the last decades; these were images taken from magazines, academic journals, and reports. In the hands of the Uru-eu-wau-wau, the images acquired new meanings, they were punctured, painted and scratched as a manifestation of their beliefs. This series manifests their relationship to the images, symbolic to their relationship with us, the outsider, the other. It is often them who are placed as the other, but Uchida, in a practice of meta-photography, deep investigation and personal reflections exercises being the other.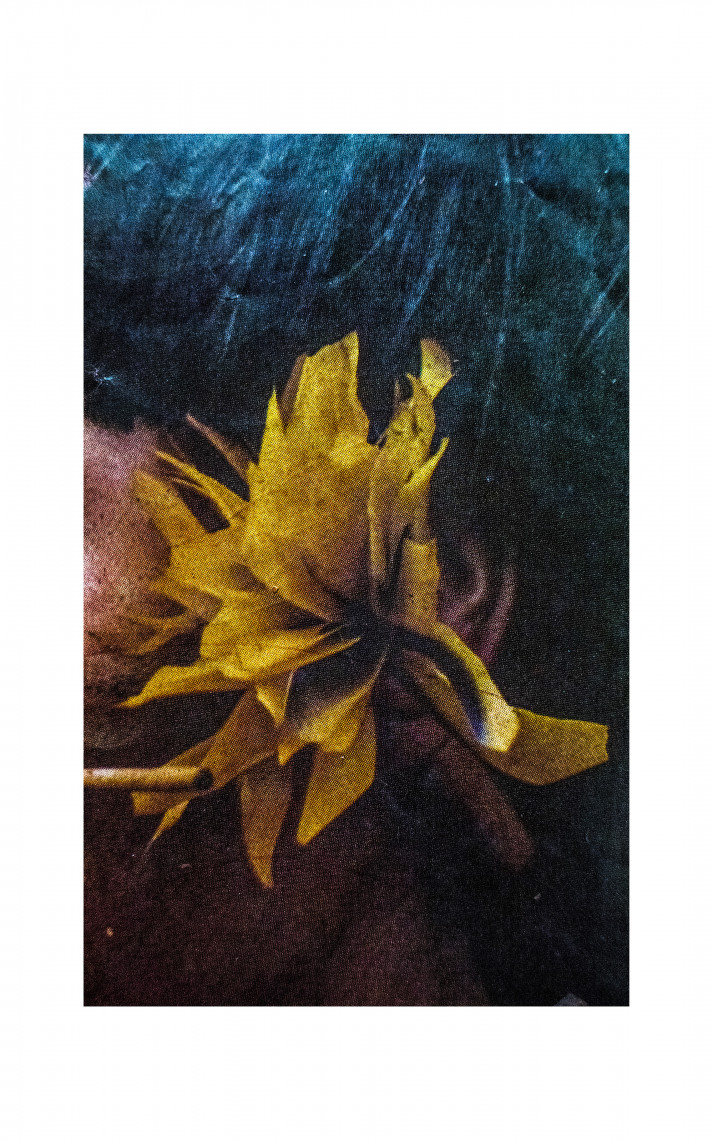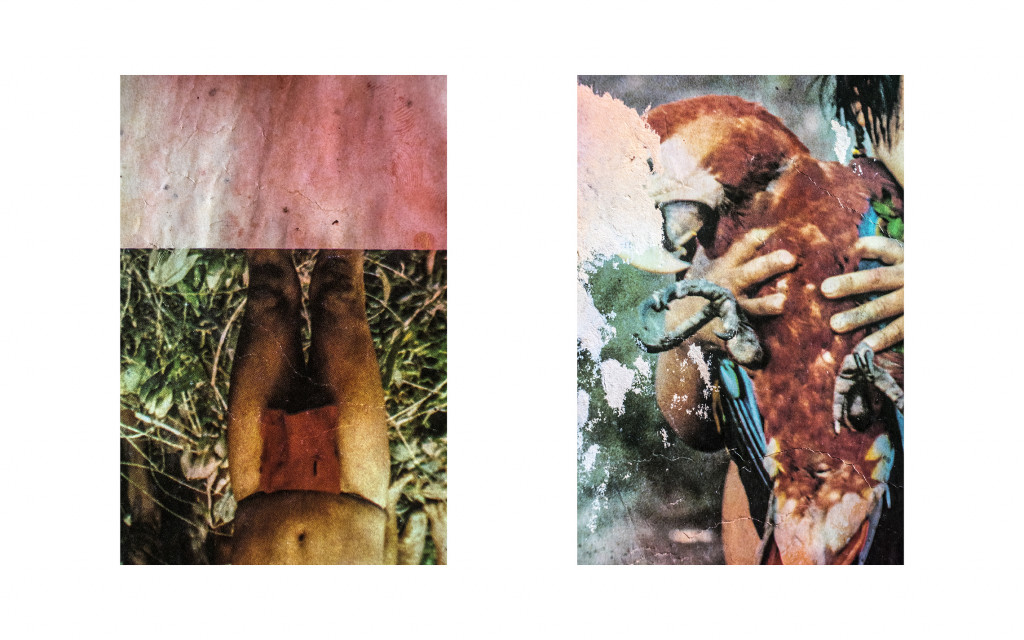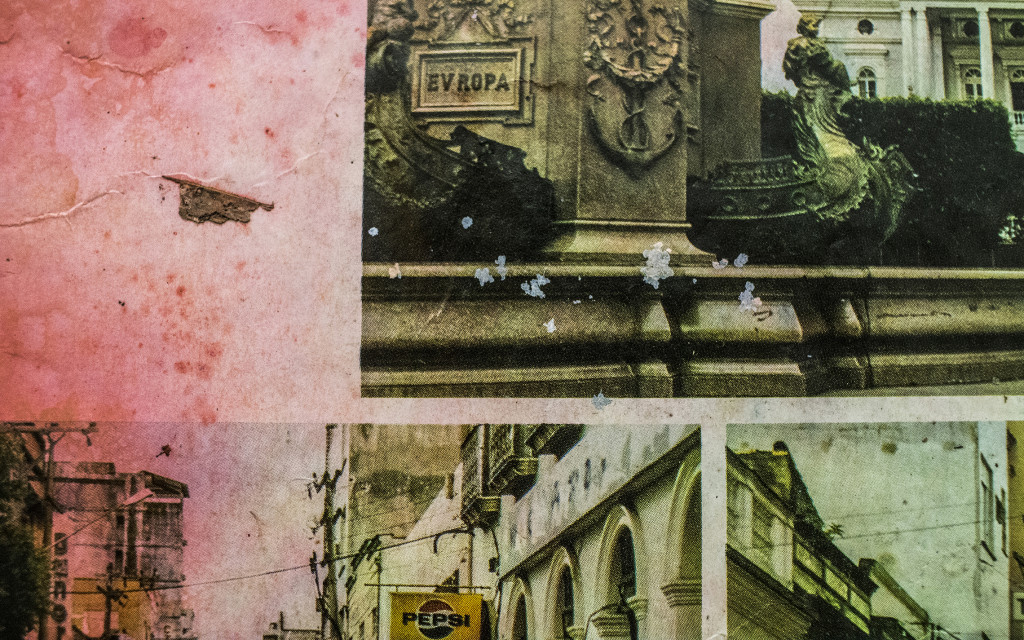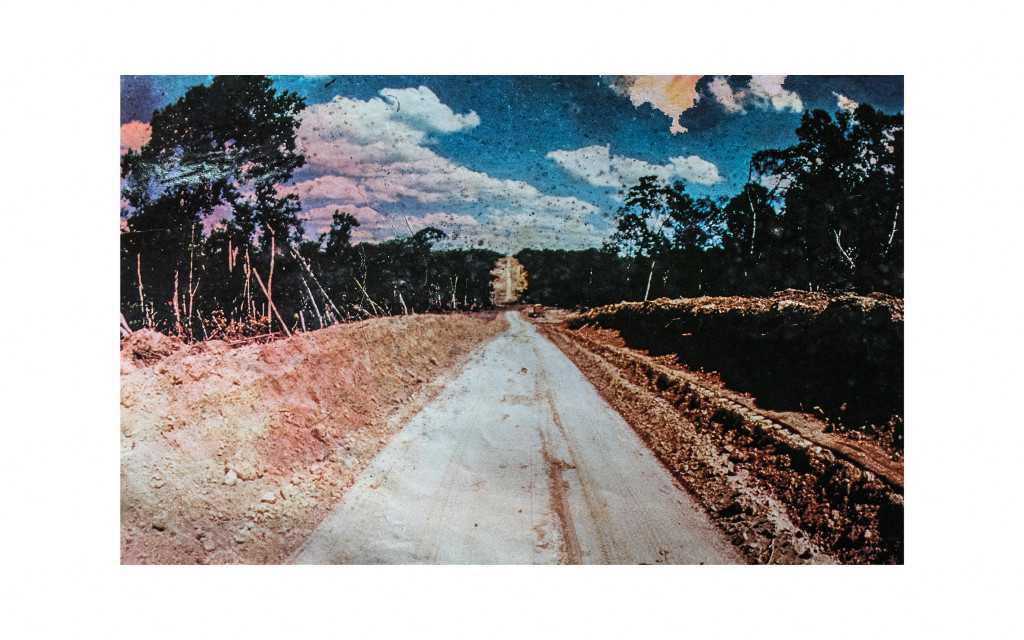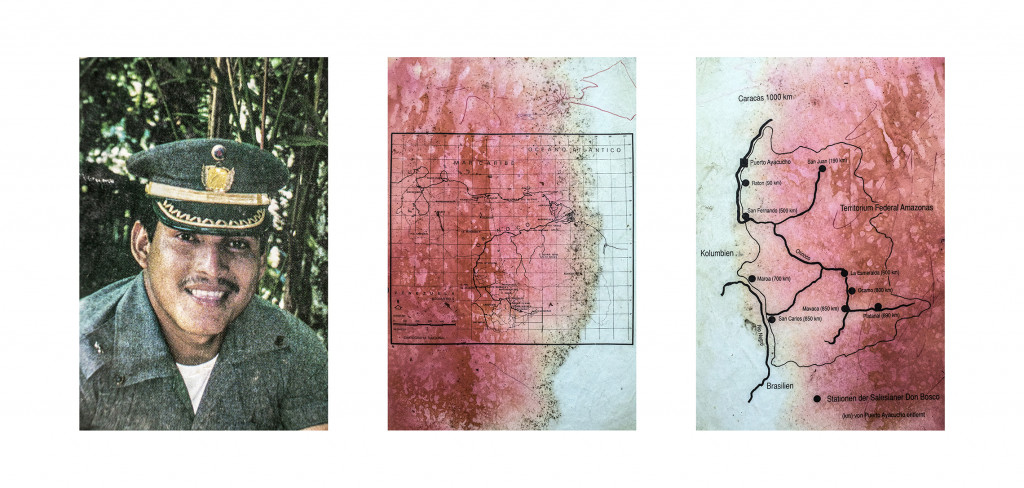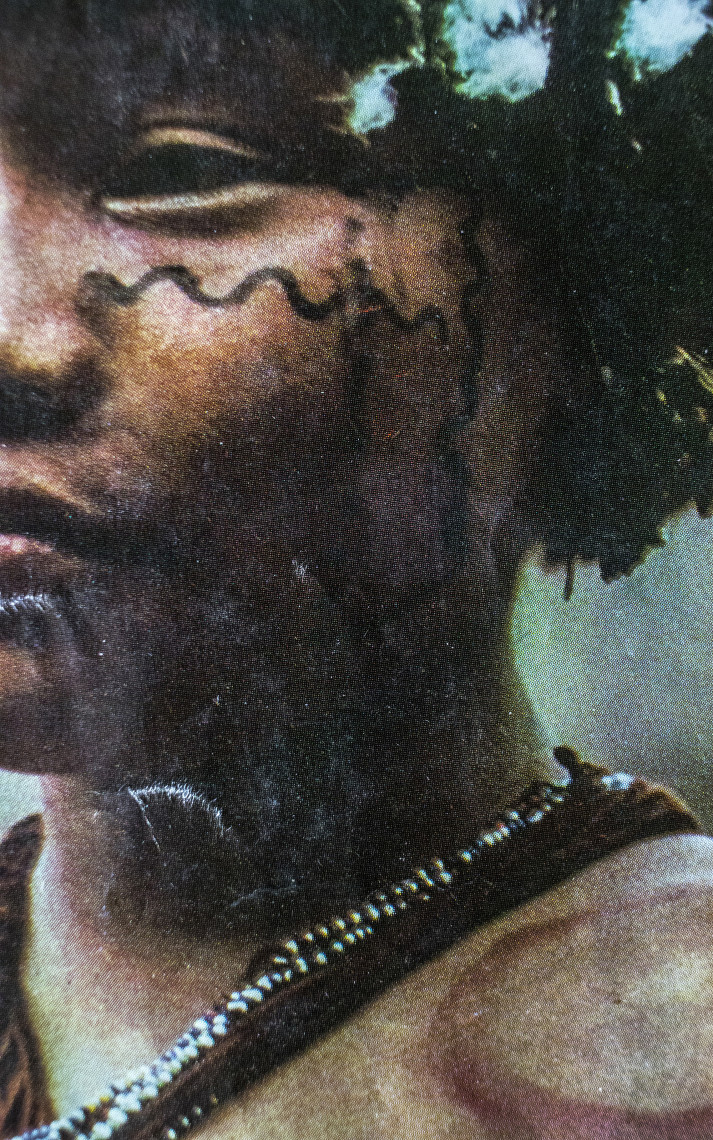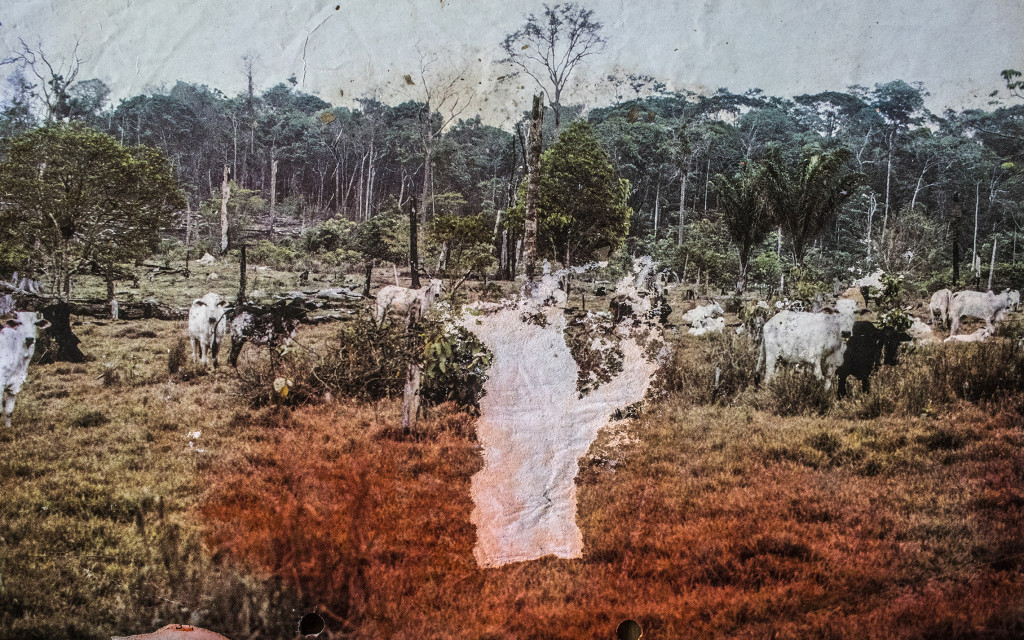 Can you please tell me a bit about yourself and your trajectory as a photographer.
I have a journalism degree, I've never studied photography. I am 32 now, taking photos was something that started kind of late in my life, when I was around 21. Since then I've already worked and lived in several countries like Cuba, Germany, Kurdistan, USA, Ethiopia, etc. Because of my background, it was natural that traditional photojournalism would lead the way for me, but year by year I was getting further from it. In general, traditional photojournalism doesn't interest me much. Especially because I'm most interested in contemporary art and also because I would rather spend longer amounts of time researching and working on a specific issue, which is not always the typical scenario in journalism. On the other hand, investigation and research methods used in journalism are still part of my process during production. But honestly I don't think much about that, I'm usually concerned on finding the best way to create the narratives I want. In 2016, after some time abroad, I felt like I needed to come back to Brazil. Even though I love my city, São Paulo, I wanted to try a new region so I came to the Amazon. I'd already had previous experiences with tribes in Namibia and social/environmental issues, besides all the conflicts, these are general topics of interest for me, so the Amazon rainforest was the perfect place to go. Since 2016, I'm based in Porto Velho (Rondônia) but I spend most of my time traveling all across the Amazon, so I usually only stay in the city around one week per month. I chose Rondônia especially for logistic reasons because it is in the middle of the whole legal Amazonia.
What are your trips across the Amazon like?
I always try to build a solid relationship by returning to the indigenous villages I visit. In general, I travel because of specific projects, most of the time I travel to check the complaints I receive about land invaders. Usually it takes a while for the police or FUNAI to do something when there are problems, so because I already have a good network when I receive new complaints, I'll travel to check what's going on and to take some photos and make videos to help indigenous people to produce formal complaints to the Brazilian government.
Your project "Travelling Through the Territory", is a collaborative work between yourself and the Uru-eu-wau-wau. Can you tell me how this project came about?
The first indigenous group I met here in the Amazon was the Uru-eu-wau-wau. It happened at an office before a meeting with the government to talk about land invaders. While they were waiting for it, they were all very concentrated looking at photo albums of themselves. The exact same scene happened a few times, again in the same place and they were still fascinated with the very same photos. So I decided to research and try to understand their connection with photography.
How did this go?
As they were looking at the photos in the city, not in their own land, I decided to put myself through the same process and to go from my place (the city) to theirs (the indigenous village) to look for photos. So I started visiting every single village in their territory and asking to see which images they had kept and the stories behind those materials – and also to try and understand what their connection to photography was. It was shocking to find lots of documents, photos, papers and magazines from the 1980s and even older than that – even though their first official contact with the Brazilian government was in 1981. Most of these materials were in English or German and besides the traces and imperfections caused by time, there were also several inferences made by the Uru-eu-wau-wau people onto the photos. Later, it was explained to me that they used black and red ink from fruits to paint some of the photos in order to "protect" the people portrayed, because they used to believe that photographs steal a person's soul. The red ink is urucum and the black one is jenipapo. As previously mentioned, their first official contact with the "white man" was in 1981. It completely changed their world and the things they knew before. They used to live isolated deep in the forest and all of a sudden they were seeing so many different things like graphic representations, so it was natural that many of these news would bring strangeness or fear. What is interesting is that several different tribes from different regions also think or thought that photos would steal their souls. The photo albums now belong to an NGO called Kanindé, which has been working with the Uru-eu-wau-wau since the 1980s and most of the meetings happen at their office, where they also have a small library.
Do the Uru-eu-wau-wau produce new images, and if so, what is their interpretation of these in relation to the older images (from the 1980s onwards)?
Unfortunately, their new photos are basically only related to land invasions and the traces they've left behind. The relation is different because photos are now used for different purposes. In the past, their photos used to be a record of their history and culture, but now they are basically worried about protecting their land and lives so they use the photos as evidence for the police and authorities.
Are photographs often used by indigenous communities to prove illegal activity (mining, logging, farming)?
Yes. In order to avoid bigger problems, I always say that the best weapon they have is the camera. When they meet invaders, one single discussion, fight or death could bring a horror sequence and it's most likely that indigenous peoples would suffer the most. It really depends on the group, but I always encourage them to film and take photos of all the crimes they find because it actually helps a lot. What makes matters more complex is the relationship with the police, especially since there are several different kinds of police in Brazil, and each state also has its own particularities.
I'd like to understand how you interpret the concept of "otherness", do the indigenous persons you collaborate with interpret this differently?
Pragmatism is always a huge reference for how indigenous people think and act. The "other" in their world is the non-indigenous person or tapunha, translated to the Uru-eu-wau-wau language. After spending a long period of time in their villages, in a mix of joking and affection they already called me kawahiba or indigenous man in their language. But anyway, I'm clearly "the other" and I even believe this process is important to be done by both "worlds". I'm a person from São Paulo living in the Amazon. Before that, I was a Latino in countries like the USA or Germany. Even before that, my father is half Japanese and my mother is half Italian – and I actually have an Italian citizenship. So I've always been an "outsider," it doesn't matter where I am. But placing myself as the other is also an interesting exercise to open my eyes in a different way.
You mentioned you were working on a new series, which is still in progress. A collection of photographs made from old FUNAI documents. Can you tell me more about it?
I'm using old reports to create images and textures from them. It's like using all of these documents as an ink to produce a painting. Besides that, it's also a sort of biographical work as I'm taking photos of a few pages of my field journal. Because of my journalistic background, I'm very interested in deep investigations. On the other hand, I like to research images – how and why they were created, for example. I'm mixing these with notes from my personal diary and things I receive or find on my way so it's going to be a sort of biographical work. Since I'm living and surviving in the Amazon (invaders, snakes, crocodiles or diseases didn't kill me yet, even though I have already received death threats and right now I have malaria) I prefer to spend my time with longer term projects and really use all the time I need to produce my work, it means I'm focused to pursue solid narratives instead of just coming here looking for a few good-looking photos.
Brazil has been consecutively ranked the most dangerous country for land defenders; it must be an unsettling feeling. How do you think awareness can be raised by people around the world?
It's very important that the world knows and talks about what's going on here, not only because it brings a certain level of protection from exposure, but also because destroying the Amazon and its peoples is something that affects the whole world. Besides that, on a larger scale, people can pressure their governments to introduce clauses asking Brazil to protect the environment, whilst negotiating international trade agreements for example.
Does mass media shape the image of indigenous peoples (to one narrative), and is this different to how they shaped indigenous peoples in the past?
Brazilian people do not know our indigenous peoples because of our poor educational system and the biased mass media. There are around 300 indigenous groups in Brazil and they are naturally different from each other, but this is something our country does not understand. Nowadays they are seen as exotic, in the past they were not even considered human beings. The Catholic Church, for example, took years to stop recognizing them as savage souls. Resistance and protest are at the core of being an indigenous person, especially nowadays in Brazil.We are facing hard times here and any kind of visibility to the indigenous issues is already a protest. During my process here, I do not only try to keep their stories alive but also try to empower their voices so they can speak up for themselves.
The same way that it is difficult to separate protest and resistance from being an indigenous person today, how do you, as a photographer and non-indigenous person, deal with everything you are seeing?
After living here for three years and sharing so many interesting moments with indigenous peoples, I feel deeply and personally connected to the Amazon. Therefore, it is hard to be a witness of what is going on here. There is not only sadness but also a lack of hope in the future that will come after all these current political changes. Some years ago, I flew around the Amazon to take photos of the forest. That made me cry. But nowadays the fire and deforestation are much worse and there are even more cases of death threats and crimes. I personally had to take new security measures after a few suspicious and dangerous situations. I wish I could stay in the Amazon longer but unfortunately now I have to be prepared to run away and fly abroad at any moment.
Your column, Tretas Amazônicas on VICE reports on the realities of life in the Amazon. Previous themes have discussed indigenous feminism, historical trauma, habitual violence and land invasion. What are at present the most urgent issues that need to be talked about?
Mining inside indigenous territories is the most urgent issue because it's illegal according to our Federal Constitution, but President Bolsonaro wants to regularize it, which means the Amazon will be destroyed and it's going to be a death sentence to animals, rivers, peoples, and the whole forest. I have not come across any mines yet, because I've never worked specifically with this issue, but I've already spoken to people who worked in illegal mines. In general, illegal miners are the most aggressive and dangerous invaders here in the Amazon. The consequences of their activity are also the worst ones because the damage caused to the forest is so intense that these areas may never be able to grow trees again and nearby rivers get intoxicated. Illegal mines are also surrounded by drug trafficking, prostitution, bribes, corruption, and crime.
Brazilian president Bolsonaro has been widely called out for his discriminatory and dangerous rhetoric against indigenous peoples. In addition, he has appointed Marcelo Xavier da Silva, a federal police officer with strong ties to the agribusiness lobby, as the new head of FUNAI. Can you comment on this situation?
It feels like an endless nightmare. Besides them, there are also several other dangerous people like Damares Alves, an evangelical pastor and the new Minister of Human Rights, Family and Women, and Ricardo Salles, the new Environment Minister convicted for environmental fraud in his previous roles. Violence and intolerance seem to be the new reality here, and indigenous people are the ones suffering the most.
References
Notes