"Once we understand camouflage as a fully vital phenomenon that cannot be reduced to a strategic-tactical game among antagonists, we can appreciate how the camouflaging animal (or human) enacts a liminal space."
Photography and camouflage have a long history of a contested relationship in which changes in one continuously cause adaptations and developments of the other. Employed by repressive state apparatuses as advanced technology of surveillance, photography has been countered by the increasingly sophisticated techniques of camouflage (concealment, mimicry, mimesis, countershading, disruptive colour and pattering, dazzling, disguise). On the other hand, photographers have continuously sought to conceal their cameras, their presence or the act of photographing itself. This too has led to the development of new photographic technology and various techniques of camouflage. These technological developments of course extend beyond photographic technology to the arms industry, highlighting the proverbial connection between photographic camera and weapons – between the two types of shooting. Camouflage is deeply embedded in the history of the social (identity, theatre, art, masks, costumes etc.) and is yet always related to its place in the natural world as it evolves around the notion of visibility, around the ability to remain unseen while been looked at or while looking. It foregrounds the issues of revealing and concealing, of surface and essence, of unmediated access to reality and the potential for hiding. The dual relationship between photography and camouflage seems only to accentuate this relationship. In contemporary image saturated and hyper photographed reality, camouflage opens up not only questions of power and surveillance, or their increasing corporatisation and commercialisation, but more and more the right to be unseen, the right to control one's photographic representation and the (un)ability to resist photographic representation. But this (un)ability is far from being grounded merely in the practical – there is something magical, charm-like in photographic representation as it is in camouflage that draws us to both with unrelenting aesthetical and political power.
Disruptive pattern camouflage has become synonymous for military kit. Besides its military use, it is also an icon of its own, a symbol of protest as well as an aspect of fashion.
For centuries, military uniforms had been colourful to differentiate friend from foe on the battlefield, but also as a distinguishing feature towards civil society. With technological progress and the advent of both aviation and improved photography a century ago, camouflage became a necessity. Artists and zoologists played a huge role in developing camouflage patterns. Today, most nations have a distinct national camouflage, and often, specific services or special forces have their very own uniforms as a sign of distinction. Nevertheless, many patterns can be traced back to the 1930s and 1940s. While fooling an observer is at the heart of military camouflage, it remains to be ambivalent, with its roles ranging from a desired cloak of invisibility to an indicator of power and prowess. In the past decades, camouflage has become synonymous with the military, and simultaneously, a global icon on its own, a political statement and an aspect of fashion.
Camouflage repels "evil" gazes. In this game of concealing and revealing, identity and non-identity and over-identity, of the real and the unreal, camouflage just will not relinquish its "excessive" magical function, which both attracts and repels in a sort of a deeper experiential sense, just as it both attracts and repels looks.
The article investigates the relationship between social control and camouflage in contemporary conditions of new visibility from the perspective of digitalisation of photographic image and its increased integration into military and surveillance technologies. The author investigates the play of visibility and invisibility, of hiding and exposing, implied in traditional understanding of camouflage under the changed conditions of referentiality and visibility through a number of examples, ranging from surveillance projects aimed at preventing human rights violations to the military use of drones and artistic projects that either critique the new means of social control, or offer strategies of resistance to individuals.
THE MARKET became about exploring the predatory impact of the market through 'thick' cultural description of the nature of its functioning through critical representation of both labour and the environment which so decisively shape our future, but at the same time remain so thoroughly unseen.
Irish photographer Mark Curran presents his on-going project THE MARKET, which is an exploration of the predatory nature of the functioning and condition of global markets. Focusing on financial and commodity exchanges, Curran provides a multi-layered and multimodal investigation of market culture, primarily through interviews and photographic portraits of traders, financial analysts and bankers from Dublin, London, Frankfurt, Addis Ababa and Amsterdam. In the interview, Curran talks about the limitations of using photography to critically represent the intangible and immaterial aspects of the working of the market and its repetitive normalisation of deviance.
I would be reluctant to treat the monocular gaze of the camera and camouflage as a binary opposition. /.../ If we conceptualise the relation between the two as a duality – as visibility vs. invisibility, as watching machine vs. camouflage – then we run the risk of missing the fact that they are absolutely interlocked together and part of the same economy. I don't see camouflage as being a response to panopticism, because camouflage is already part of the panoptic system.
John Tagg is one of the most prominent contributors to critical theory and history of photography. In the interview, he talks about the contemporary relationship between (photographic) image and governmentability, on the asymmetrical distribution of power relations that it implies and on the possibilities of resistance to the omnipresent social surveillance. Within the contemporary apparatuses and machineries of surveillance, the image often represents only a nodal point for collection of nonvisual information. As the value of the image within these machineries shifts away from their representational character, the image is increasingly becoming weaponized and is in the final instance, destined to become a trigger rather than visualisation device of the apparatuses of social control. Therefore purely visual strategies of resistance, such as camouflage, are not sufficient to fight against the increasingly automated machineries of social control and changed conditions of governmentability.
Iiu Susiraja's self-portraits can be read as critical reflection and pointed commentary on what society (still) regards as unwanted and often stereotypical image of womanhood, the role of housewife, ideals of beauty, and the resulting power relations.
The article is a critical analysis of the work of Finnish photographer Iiu Susiraja based on her series Good Behaviour / Perfect Everyday Life and conversation with the author. Susiraja places herself and her personal life at the centre of her work. Her humorous and (self)ironical portraits can be seen as a critical reflection and a sarcastic commentary on socially desirable and to a large extent stereotypical ideas of femininity, beauty ideals, social roles such as being a housewife etc. and the relations of power that are implied in them. Her critique is on the one hand directed at conservative and patriarchal social values, but she at the same time poses a mirror to women who perpetuate these values by obsessively investing into their bodily beauty and who uncritically accept the traditional roles assigned to them. Her work thus addresses the question of the definition of "normality" – which because of her specific humorous approach – is best described as a solo comedy.
Salaj is one of those photographers who are characterized by deep reflection of the meaning and perception of image from different, mainly philosophical viewpoints, while at the same time following the objectivistic principles of photography.
The article that aims to analyse the artistic production of photographer Bojan Salaj is based on conversations and reviews of his archive. Among Slovenian photographers, Salaj is the one who has been seen as an embodiment of the decisive shift in perception of the photographic medium that occurred in the late 1980s and early 1990s. He has never worked as documentary photographer or photojournalist; his authorial practice has always been primarily focused on the context of exhibition and against unconventional solutions. Salaj is one of those photographers who are characterized by the deep reflection of the meaning and perception of image from different, mainly philosophical, viewpoints, while at the same time following the objectivistic principles of photography. At a glance, his practice is extremely eclectic and post-modern, which is due to the fact that he is not looking to find an individual and recognizable artistic voice; he dedicates his focus to individual projects, bringing into his work various different references and themes. Nevertheless, a central motive can still be perceived throughout his output. In the past 25 years, Salaj has mostly been attracted to the here and now; this includes the fundamental problems of representation of photography in mass media, iconography of power structures, models of construction of history, and ways of establishing national and cultural identities.
Take this stuff seriously!
Steganography is a highly efficient method for concealing messages, for despite the rapid evolution of computer sciences and development of statistical analyses it is difficult to analyse every single selfie or digital image circulating the World Wide Web today.
Vanja Bučan: from series Sequences of Truth And Deception.
Simon Menner: Camouflage.
Marjan Kodelja: Steganography.
Jure Kastelic: Wrestlers.
Jo Roettger: from the series Landscape & Memory.
Courtesy of Peter Hermans.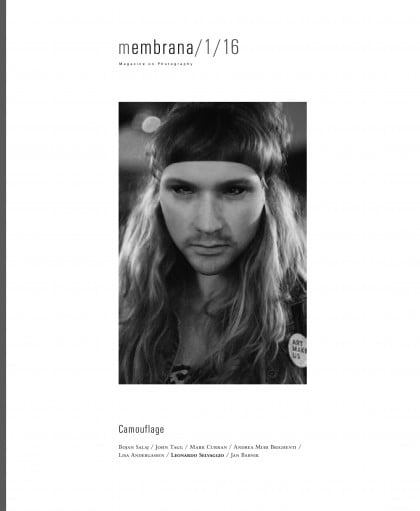 MEMBRANA 1 / 2016 • ISSN 2463-8501 • https://doi.org/10.47659/m1
publisher: Membrana, Maurerjeva 8, 1000 Ljubljana • tel.: +386 (0) 31 777 959
editorial board: Jan Babnik (editor-in-chief), Ilija T. Tomanić, Lenart Kučić, Emina Djukić
article contributors: Lisa Andergassen, Jan Babnik, Martin Bayer, Ksenija Berk, Miha Colner, Mark Curran, Emina Djukić, Jasna Jernejšek, Marjan Kodelja, Lenart J. Kučić, Andrea Mubi Brighenti, Matej Sitar, John Tagg, Ilija T. Tomanić
translation: Domen Kavčič and Tom Smith • proofreading: Tom Smith
image contributors: Alia Ali, Marion Balac, Martin Bayer, Matthew Barney, Filip Bearnek, James Bridle, Vanja Bučan, DigitalGlobe, Mishka Henner, Peter Hermans, Jure Kastelic, Simon Menner, Arno Rafael Minkkinen, Not a Bug Splat project, Jo Roettger, Bojan Salaj, Leonardo Selvaggio, Smalbutdangers, Steve Stills, Iiu Susiraja, Ana Šuligoj
design: Primož Pislak, LUKS Studio
printing: Collegium Graphicum • print-run: 500
All images and texts © Membrana, except when noted otherwise • Editorial Photograph: Leo Selvaggio, URME at ISEA 2015. Courtesy of the author. Last page photo: Compass Rose, near Edwards AFB, CA, USA, Google Earth screen capture.