"Technology allows for a creation of evidence which affords awareness about circumstances that underlie social constructs."
Today, the digital augmentation to personal worlds and public spaces revolutionises how we experience both each other and ourselves. With historically unparalleled acceleration, photographic technology is ever-more immersive and interactive. This principally visual medium can react dynamically and blend realistically with our environment in real-time to add layers of novel data (across sensory modalities auditory, haptic and olfactory). Thus, with the application of the augmented photograph within a smartphone app, social network, or some other channel, our perceptual-cognition becomes increasingly embedded (between our interactions) and extended (beyond the organism). The affordances of enhanced viewer-made-participant experience, immersed in a composite visuality superimposed over the "real world," have already begun to inspire: visual activism, protest representation, and contested identities; photo and documentary journalism; counter-information and dataveillance; remediation or reconceptualization for the iconic historical imaginary; family as well as social histories by way of shifting album paradigms; and other areas of inquiry. The notion of augmentation combines the indexical qualities of the "traditional" photographic image with "new" digital forms and functionalities.
With this complexity of relations that a person has to navigate since the emergence of new technology it is not surprising that our minds are on a subconscious level preoccupied with the performance of identity.
The essay provides an introspection into the relationship between our identities and technology. It aims to show how our identities are affected by new modes of operation that were less accessible before the emergence of social networks. Through an observation of popular media (i.e. TV shows) and social media, it reveals how the self is convoluted, resulting into a variety of performed identities. It explores how through social media, individuals are able to create perceived identities, which are to various degrees lived or completely fabricated. The essay uses iZombie and Orphan Black as case studies to showcase how life and the media are intertwined, resulting in the latter holding a mirror to the former. With a distinction between the online and offline personality, it presents the augmentation of identity with the aid of new interfaces, online intermediaries that add to the interpersonal contact; from the initial landline phone to more current modes of communication (Facebook, Tinder…) the essay points out how levels of anonymity aid the emergence of new identities. It provides a mirror of contemporary life and the ways the augmented self-influences the ways we understand and view our identities.
Augmented wild life photography (through the apps) presents a unique experience equidistant between that of a zoo, wildlife documentary, and a videogame.
Wild Life is a series of augmented photographs of animals and insects placed in vacant, overgrown spaces in suburban Bangalore. Taken through mobile AR apps like Holo and Augment, these photographs (or screenshots) situate virtual bodies within the frame of the mobile camera – creating something in between a document and fiction. The work investigates these processes of augmentation, which enable 3D representations of things in the real/physical world to be projected back into physical space that are then photographed. The larger phenomenon of AR photography also complicates traditional notions of "immersive" media – forcing one to interact with their environments. This essay reflects on the implications of mobile AR photography on the image and the referent. Through a phenomenological reading of and immersion into popular uses of mobile AR (like the game Pokémon Go), the essay is an observation of the convoluted relationships evoked between augmented bodies, their environments and the screens on which they manifest.
Photography has traditionally been a symbiosis between a human and a machine. Now it is also a symbiosis between a non-human and a machine.
Optical and mechanical tools were the first major "augmentation" of human senses. The microscope approached the worlds that were too small for the optical performance of the eye. The telescope touched the too far-off space; X-rays radiated the inaccessible interior of the body. Such augmentations were not innocent, as they demanded a different interpretation of the world, which would correspond to images of infinitely small, remote or hidden. Similar augmentation is now happening with cloud computing, machine vision and artificial intelligence. With these tools, it may be possible to compile and analyze billions of digital images created daily by people and machines. But who will analyze these images and for what purpose? Will they help us to better understand society and learn from past mistakes? Or have they already been hijacked by attention-merchants and political demagogues who are effectively spreading old ideologies with new communication technologies?
Contemporary consumerist culture reacts very positively to visual manifestations of wealth, popularity and enviable lifestyles, something which Instagram enables and promotes.
Artist Biography
Amalia Ulman (1989) is a visual artist born in Argentina. In 2011 she graduated from the Central Saint Martins College in London. In her author's practice she addresses phenomena such as class struggle, social gender, representation of individual in mass media and on social networks, while using photos, videos, performative practices and modern communication tools, which often go beyond classical gallery practices. Ulman lives and works in Los Angeles.
By blurring her visual identity in a public virtual space, which is almost subversive in the period of generalised extrovertedness and narcissism, Berk turns to the postulates of the dominant culture. Nevertheless, it is with this steady state of absence, during expected authenticity, that she receives a new and different type of attention from the users of social media networks.
Artist Biography
Nataša Berk graduated from the Academy of Fine Arts in Vienna, and since 2003 she regularly creates and presents multimedia and interdisciplinary works, projects and actions ranging from performance, the adoption of identities and situations, photographs, videos, drawings to visual poetry. She lives and works in Maribor, Slovenia.
Reality is becoming increasingly mediated by autonomous entities, whose systems locate themselves within a blackbox.
A critical gaze and an investigative guise are necessary in a time where the uneven boundaries between "the real" and the phantasmagoric are blurred into our conceptions of reality. We are surrounded by interfaces, screens, virtual spaces and infinite networks. Technologic advancements departing from the photographic medium have the potential to change our relations to our surroundings and our conceptions of ourselves through images. We are no longer merely receivers of images, we are active producers of them; In the 1980's, philosopher Vilém Flusser and filmmaker Harun Farocki were already engaged in questions aimed at understanding our relationship to images and our responsibility towards the production images. Both urged their readers and spectators to engage in dialogue, to understand the phenomenon of photography and its direct correlations to mass communication structures.
Nataša Berk: Instagram Art, 2016–ongoing.
onformative: Google Faces, 2013.
Harun Farocki: Eye/Machine III (Auge/Maschine III), 2003.
Grenfell Tower Fire, London. 14 June 2017. Partial 3D reconstruction of the event.
Dead End Thrills: Liberty City Walkabout 057, from Grand Theft Auto IV (Walkabout Series, n.d.).
Point-Cloud of the Well of Awimer Salman Abu Medigam, Sep 2016.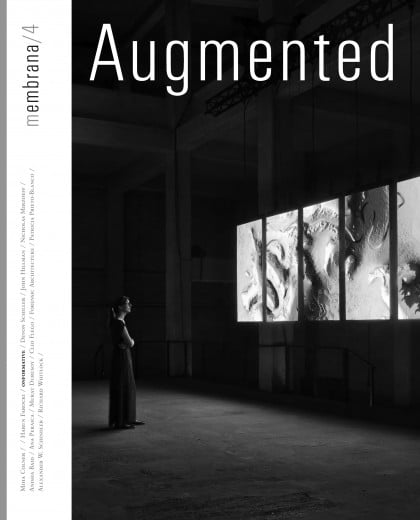 MEMBRANA 4 / 2018 • ISSN 2463-8501 • https://doi.org/10.47659/m4
publisher: Membrana, Maurerjeva 8, 1000 Ljubljana • tel.: +386 (0) 31 777 959 • email: info@membrana.org
editors: Jan Babnik (editor-in-chief), Ilija T. Tomanić • guest editor: Devon Schiller
editorial board: Mark Curran (Dublin Institute of Technology, Ireland; Freie Universität Berlin, Germany), Ana Peraica (independent researcher, educator, Croatia), Witold Kanicki (UAP Poznań, Poland), Miha Colner (International Centre for Graphic Arts, MGLC, Ljubljana, Slovenia), Lenart Kučić (independent journalist, Pod črto, Slovenia), Emina Djukić (University of Ljubljana, Slovenia), Jasna Jernejšek (independent researcher, curator, Slovenia), Asko Lehmuskallio (University of Tampere, Finland), Devon Schiller (independent researcher, USA), Robert Hariman (Northwestern University, USA) • advisory board: Alisha Sett, Andreia Alves de Oliveira, Iza Pevec, Matej Sitar
article contributors: Miha Colner, Murat Durusoy, Clio Flego, Jernej Čuček Gerbec, John Hillman, Louise Hisayasu, Lenart J. Kučić, Ana Peraica, Patricia Prieto-Blanco, Devon Schiller, Alexander W. Schindler, Richard Whitlock
translations: Tom Smith • proofreading: Tom Smith, Anja Kos
image & projects contributors: Forensic Architecture, Murat Durusoy, onformative, Nataša Berk, Amalia Ulman, Ashley Gilbertson, Kerem Ozan Bayraktar, Dead End Thrills, Leonardo Sang, Clement Valla, Nuri Sergen Şehito lu, Harun Farocki, Vilém Flusser, Patricia Prieto-Blanco, Johann Gabriel Doppelmayer, Richard Whitlock
design: Primož Pislak
printing: Cicero • print-run: 400
all images and texts © Membrana, except when noted otherwise • editorial photograph: onformative, from installation view of Meandering River [audiovisual digital artwork], Berlin, Funkhaus, 2017. Used with permission. • last page photo from: screen capture from video by Harun Farocki, Eye/Machine III (Auge/Maschine III) © Harun Farocki, 2003.