"The military liked to use the stories of animal heroism performed by man's best friend to set an example for the soldiers."
The notion of being human revolves around our perception of what it means to be an animal or beast – and this relationship is constructed through the medium of photography (among other media). Photographs of animals always held a significant presence throughout the history of the medium, a testimony of particular fascination and desire to either decode or ascribe meaning to the non-human. The sheer number and diversity of photographic representations of animals (and non-photographic pictorial tradition of representing imaginary beasts) testifies of co-dependency of the relationship. Whether used as commodities for exchange, marketing tools for commodification, tools of scientific research or tokens of domestic familiarity, silent trophies from exotic places or city zoos, the images speak of a certain process of domestication of both a sign and a referent. Nowadays there seems to be a shift from the old photo-humanistic belongingness of The Family of Man to the growing disillusionment of Anthropocene. A certain demand for a new kind of responsibility, a new kind of belonging arises – not only trans-cultural but also trans-species.
Animals are becoming an increasingly bigger part of our lives, our inevitable loneliness. They complement our human or spiritual side that we are deprived of. – Can Batukan
"Why look at animals?" asks art critic John Berger. I would like to address this question by paraprashing it and asking instead, "why look at dead animals?" Extinct or rare animals are the most interesting objects of the camera of curiosities and natural history museums. Hiroshi Sugimoto focuses on the dioramas where animals are shown in their habitats. Lynn Savarese revitalizes taxidermied animals as heroes of a story. Humans and animals have equal value in Michael Ackerman's photographs. Nobuyoshi Araki's visual diaries contain stories on life and death. Nezaket Tekin creates utopist scenes using insects. Her other work also involves documenting dead animals.
The military liked to use the stories of animal heroism performed by man's best friend to set an example for the soldiers.
The article focuses on examples of also using animals for war propaganda. Photography served to justify animal drafting, to keep up the military morale, and to show how cruel the enemy was. The animal 'heroes' of the newspapers– horses, dogs and pigeons – illustrate the attitude of humankind toward animalkind in the first industrial and technological war that showed the vulnerability and the nonsense of using animals on the fronts.
The so-called freedom of choice is turning into an infinite burden. All of this coincides with the ecologic crisis that is influencing all animal species, including humans.
Maja Smrekar is a visual artist addressing current phenomena in contemporary society. Her earlier works often touch upon the mundane permeated by stereotypes of popular culture, the future as understood through fiction, and the ethical aspects of human interventions in nature and natural processes. In 2014, she began performing her continuous work K-9_topology, in which she analyses the causes and consequences of human domination on the planet, and questions the self-evidence of the anthropogenic mentality. During the following four years, this artistic research and extremely interdisciplinary action led her to deeply explore the relationship between a human and a dog. Individual elements of the project were introduced through performance, installation, artist book, and photography. The following interview focuses on this segment of her work; on her reflections on the relationship between a human and an animal; and on certain important social contexts that define her work.
I don't think we are victims of technology, we are agents of technology.
We meet with David Bate, artist and theorist working in photography in a Portuguese cafe in London the day the United Kingdom is holding what will most probably be its last European Parliamentary elections. The country has been at the forefront of education in photography, offering a record number of university degrees which historically were pioneer in introducing critical theory as part of the curriculum. But today this situation might have changed. The conversation flows freely between Bate's experience of growing up in a working class area in 1970s UK and the realities of today's educational and social system, the correlation between theory and practice and the paradoxes of the digital image and our current relation to it, aiming to introduce (or update) our readers to one of the most thought provoking and rigorous critical practitioners (which is to say, thinkers) working in and with the medium today.
To be honest, I am shy and people frightened me. Animals only pooped on your shoes.
Macinnis' photographs of various groups of animals are so striking because all the animals assembled in front of the camera seem to be most willing to accept the camera's gaze and the power relation implied. Animals are usually hard to photograph, because they are not particularly collaborative, unpredictable in their movements, and tend to flee the frame. Macinnis' protagonists pose and look straight into the camera. They appear tame, pacified, 'civil', patiently awaiting their pictorial equivalent. As in all well-managed and representative group photos, there are no obvious signs of disorder or potential subversion. Macinnis' patchwork families look friendly and demonstrate unity and a sense of aesthetic order. Macinnis' photos allow for a reflection on group photographs and their specific arrangements. At the same time, they make one painfully aware of the disciplinary nature of the photographic act. Posing and freezing in front of the camera is a cultural practice that had to be trained and appropriated. Narratives from the beginnings of photography prove that. By looking at Macinnis' fully disciplined animal models, one realizes how much of our own unruliness we had to give up to fit into the photographic system.
In her photographs, Bučan often depicts the commercialization of nature that is becoming a matter of culture.
The article analyzes the artistic process of the Berlin-based photographer Vanja Bučan, who always manages to maintain at least some recognizable expression despite her varied approaches. Her works are visually rich, carrying complex meanings and associations. She chooses not to directly reflect the collective and the individual everyday life but depicts universal existentialist motifs where the social perspective is usually shown through metaphors and allegories. The centerpiece of her work is the relationship between culture and nature and between humans and their environment, as well as the ontology of image in mass media circulation. Her photography requires a considerable degree of cerebral activity and intuition in order to sense some of the fundamental questions of humankind in the Anthropocene.
Originally, I was driven by the idea to take pictures of individuals who don't even have any understanding of being depicted.
Nature doesn't need humans, but humans, especially capitalist society, need Nature in order to establish and sustain the order they insist upon, which is based on often incomprehensible strong and inexplicable laws of nature.
The idea of socializing animal instincts, or of making animal actions appear through human understanding, provides the standard moral basis upon which common attachments, identifications and affects with the animal other occur.
Panos Kompatsiaris is Assistant Professor of Art and Media at the Higher School of Economics in Moscow, Russia. He holds a PhD in art theory from the University of Edinburgh (2015) and has contributed to journals and edited volumes with texts on art and media theory, ethnography and cultural studies.
Photos of pets on social media show that a photograph in digital economy is never only a digitalized version of what was once an analogue photographic image.
Lenart J. Kučić is a journalist, lecturer and researcher of mass media. For 10 years, he covered the intersection of media, technology and society for Delo newspaper Saturday supplement. Last year he joined the media for investigative journalism Pod črto (The Bottom Line). He is also the founder of the Marsowci podcasting network and co-author of several research and expert articles on media ownership.
featured_Jani Pirnat Animals - war propaganda 5 2
Bojan Mijatović: Dog Experiment, 2016.
Clare Benson: Pietà II, 2013.
Aleksandrija Ajduković: Glossy Cows, 2002–2004.
Rob Macinnis: Untitled # 3.
Lenart Kučić: Animal Internets.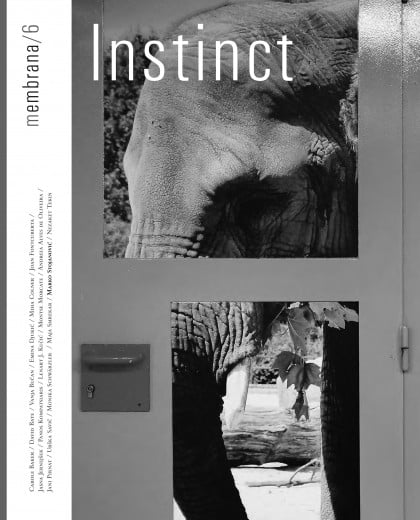 MEMBRANA 6 / 2019 • ISSN 2463-8501 • https://doi.org/10.47659/m6
publisher: Membrana, Maurerjeva 8, 1000 Ljubljana • tel.: +386 (0) 31 777 959 • email: info@membrana.org
editors: Jan Babnik (editor-in-chief), Ilija T. Tomanić
editorial board: Mark Curran (Dublin Institute of Technology, Ireland; Freie Universität Berlin, Germany), Ana Peraica (independent researcher, educator, Croatia), Witold Kanicki (UAP Poznań, Poland), Miha Colner (International Centre for Graphic Arts, MGLC, Ljubljana, Slovenia), Lenart Kučić (independent journalist, Pod črto, Slovenia), Emina Djukić (University of Ljubljana, Slovenia), Jasna Jernejšek (independent researcher, curator, Slovenia), Asko Lehmuskallio (University of Tampere, Finland), Devon Schiller (independent researcher, USA), Robert Hariman (Northwestern University, USA) • advisory board: Alisha Sett, Andreia Alves de Oliveira, Iza Pevec, Matej Sitar
contributors: Carole Baker, David Bate, Emina Djukić, Miha Colner, Joan Fontcuberta, Jasna Jernejšek, Panos Kompatsiaris, Lenart J. Kučić, Montse Morcate, Andreia Alves de Oliveira, Jani Pirnat, Urška Savič, Monika Schwärzler, Maja Smrekar, Nezaket Tekin
translations: Sonja Benčina, Graham Thomson • proofreading: Tom Smith
image & projects contributors: Joan Fontcuberta, Lenart Kučić, Aleksandrija Ajduković, Bojan Mijatović, Clare Benson, Vanja Bučan, Borut Peterlin, Manuel Vason, Anže Sekelj in Hana Jošić, Sandra Odgaard, Manca Jevšček, Dagmar Kolatschny, Artur Kucharczak, Marko Stojanović, Hendrik Zeitler, Rob Macinnis, Montse Morcate, Nobuyoshi Araki, Michael Ackerman, Nezaket Tekin, Anja Carr, Klaus Pichler, Alexandra Soldatova, Daniel Szalai, Maja Smrekar
design: Primož Pislak
printing: Cicero • print-run: 400
all images and texts © Membrana, except when noted otherwise • editorial photograph: Marko Stojanović, Oases XI, Amsterdam, 2016, courtesy of the author • last page photo: Central News Photo Service, Equipt (sic) for the trenches, (1914–1918). Courtesy of Library of Congress Prints and Photographs Division Washington.