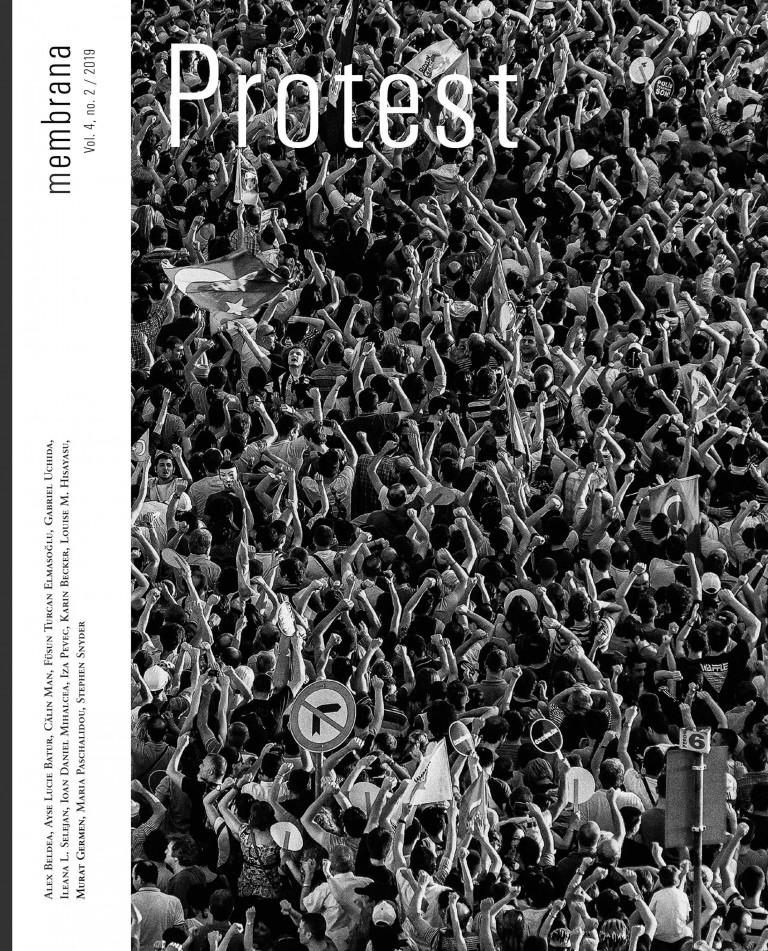 Throughout the twentieth century, political and social protests have become one of the most widespread forms of political contention and collective social action and are to an ever greater extent shaping the contours of public debate since the beginning of the new millennium. Unsurprisingly, within the present milieu of crumbling social consensus, growing political polarization and legitimacy crisis of key institutions of modern state, various forms of political and social protests are on the rise. Visual capabilities of new communication technologies have not only significantly changed the nature and extent of documentation and challenged the institutionalized mediation and communication, but also contributed to codification, even standardization of the visual representations of protests. Strained between symbols (e.g. tank man), metaphors (e.g. protesters giving flowers to police/military) and visual clichés (e.g. rock-throwing masked protester), images of protests and protesters play an important role in struggles over interpretation of the events, legitimacy of protester's demands and their status as either citizens, crowds, "the people" or mobs. Moreover, protest visuals are not simply part of representation of events; they are increasingly becoming tools of political mobilization, resistance and even modes of protesting themselves through image-based activism, documentation and archiving projects and more.
Art can by no means counteract force directly. But likewise, force cannot directly divert an aesthetic expression.
The wave of demonstrations that developed out of the Gezi Park sit-ins manifested a form of aesthetic creativity that employed transvaluation and displacement in a way that set them apart from other protests in Turkey and the Arab world. Transvaluation and displacement were arguably among the primary forces that drove the protests following the forceful breakup of the Gezi Park sit-ins. The protests began when police forcefully removed sleeping demonstrators from Gezi Park. To most observers, the police use of violence to clear the park was deemed disproportionate, and the resistance countered the tear gas, truncheons, water cannons, and detentions with a level of aesthetic intensity that surprised detractors as well as supporters. The primary aim of the movement was to protect a park in the center of Istanbul, but the resistance represented a broad coalition of those who opposed what they perceived as the autocratic ruling style of then Prime Minister Recep Tayyip Erdoğan. They ranged from anti-capitalist Muslims to students who simply opposed the Prime Minister's Islamification of the Turkish public sphere. Examining the way in which transvalution and displacement were used as a response to the force employed by riot police at the direction of the Turkish government shows how political art was employed effectively in the Gezi Park protests.
If artistic creation can be considered as an astral trip to the outer space, planning and architecture education taught me how to come back to the Earth.
Public space directs how we live and act, how we socialize and even protest. If there is no community and solidarity there is no city, no civilization; there can only be a »city-state« as the modern version of an empire, says Murat Germen, photographer known for his critical view on the home-town of Istanbul. Muta-morphosis, probably one of his most famous series, uses digital manipulation to show a dark vision of future cities: buildings cramed together as in a strange and dangerous mutation process, almost melting as objects in Dali's paintings. Through his artworks, text and lectures, Murat Germen criticizes excessive urbanization, motivated by capital and not by human needs. He also documented Gezi Park protests, in which the political aspect of managing the city became very apparent. His photos can be understood as a visual protest and Murat Germen thinks some of them may turn into visual evidence of the urban crime committed by the present Turkish government since 2002, when it came to power.
In street demonstrations, people reclaim the public space on their own terms through their embodied collective actions.
In the Semiotics of the Protest performed video, I visually examine the key significance of the body and its language for the materialization of the street protest, the vital tool by means of which people reclaim public space and activate it as a political terrain. The video is based on a performance for which I invited a volunteer dancer to "rehearse" public gestures of resistance against oppression. Challenging dominant representations of protestors as "mobs" and protestors' bodies as irrational and uncontrollable entities, in this performed video, I visually analyse the political demonstration as choreographic tactics executed by bodies which are meaningful and purposeful and which, through their gestures, move forward to social change.
MEMBRANA 7 / 2019 • ISSN 2463-8501 • https://doi.org/10.47659/m7
publisher: Membrana, Maurerjeva 8, 1000 Ljubljana • tel.: +386 (0) 31 777 959 • email: info@membrana.org
editors: Jan Babnik (editor-in-chief), Ilija T. Tomanić
editorial board: Mark Curran (Dublin Institute of Technology, Ireland; Freie Universität Berlin, Germany), Ana Peraica (independent researcher, educator, Croatia), Witold Kanicki (UAP Poznań, Poland), Miha Colner (International Centre for Graphic Arts, MGLC, Ljubljana, Slovenia), Lenart Kučić (independent journalist, Pod črto, Slovenia), Emina Djukić (University of Ljubljana, Slovenia), Jasna Jernejšek (independent researcher, curator, Slovenia), Asko Lehmuskallio (University of Tampere, Finland), Devon Schiller (independent researcher, USA), Robert Hariman (Northwestern University, USA), Murat Germen (Sabanci University, Istanbul) • advisory board: Alisha Sett, Andreia Alves de Oliveira, Iza Pevec, Matej Sitar
contributors: Alex Beldea, Ayse Lucie Batur, Gabriel Uchida, Ileana L. Selejan, Ioan Daniel Mihalcea, Iza Pevec, Karin Becker, Louise M. Hisayasu, Murat Germen, Maria Paschalidou, Nataša Ilec
proofreading: Tom Smith, Sonja Benčina
image & projects contributors: Activestills, Alex Beldea, Anat Saragusti, Andrei Iliescu, Anne Paq, Călin Man, Füsun Turcan Elmasoğlu, Gabriel Uchida, Janna Tamimi, Michel Euler, Murat Germen, Maria Paschalidou, Stephen Snyder
design: Primož Pislak
printing: Cicero • print-run: 400
all images and texts © Membrana, except when noted otherwise • editorial and back cover photograph: Murat Germen: Freedom Day: No Turn to Right, 2013, cropped, courtesy of the author.