In Rob Macinnis' photograph Untitled # 4, five animals peacefully pose for the camera. They look straight into the camera and seem to be patiently awaiting the end of the photo session. There are no indications of rebellion against this project of rendering their pictorial equivalents. They look tame, civil, accommodating, and none of them signals disapproval of the process. For some unknown reason, they seem to be convinced that this photo opportunity is worth the effort of standing still and freezing. Animals are usually hard to photograph, because they are unpredictable in their movements and tend to flee the frame. On photo safaris, animals do not show up on time, and on other touristic occasions, whales and dolphins refuse to perform the way they are supposed to. Cats and dogs fool the camera, and birds are hopeless anyway. When it comes to taking photos of them, animals are notoriously non-collaborative and the hypnotizing effect of the camera does not work with them. There may even be a vague collectively passed-on recollection of the fatal double meaning of shooting and photographing.
The photos were taken at an organic dairy farm in Northumberland, Nova Scotia, and to the owners of the farm, Macinnis' plan to take portraits of their livestock sounded very strange at first. For his project, the photographer was mostly interested in "the blue-collar animals of the animal kingdom" (Watts 2010): horses, cows, goats, and chickens, those who keep farm life going with their labour and products. Paradoxically, these well-lit and perfectly staged images of the ordinary folks among animals were modelled on a type of glamour photography. As Macinnis mentions, he had 'Annie Leibovitz' star-studded photoshoots" (Watts 2010) for Vanity Fair in mind when he set the scenes for his barnyard animals. In Leibovitz' famous fashion magazine images up to fifteen people, mostly film stars, are arranged in refined poses and exquisite outfits. They are all given equal attention, all are evenly lit, and have their share of space. As a group, they demonstrate unity, their common denominator being their celebrity status. One would assume that the presence of many stars in one picture frame has something inflationary, but this is not the case with Leibovitz' photographs. It is her photographic technique that effectively subverts the nature of exclusive star imagery. Despite their competitive nature, they all belong and seamlessly fit into an overall composition of beauty and status. Some poses may be more striking and ambitious than others, but Leibovitz as the stage director and tamer of the assembled alpha creatures made sure that they behaved and did not try to outdo each other. Not for moral reasons, of course, but just for the sake of good photographs.
Macinnis' animal group portraits exude the same atmosphere of frictionless coexistence. If goats and bulls do not get along in real life, this does not show in the photo. One is reminded of family photographs. In our case, the different members of Macinnis' patchwork family came together to demonstrate unity and harmony, which is usually communicated in aesthetic codes. Concordance and consensus are best represented in good form and composition. Neither dog nor chicken spoil the prefigured aesthetic order and its corresponding narrative of a well-functioning family. In their surreal amenability, Macinnis' farm animals look as if they were seizing a last photo opportunity before peacefully embarking on Noah's Ark. There is not the slightest indicator of conflict or a will to stray from the sanctioned versions of group images. But still, how did the chicken in Untitled no. 3 know that its place was in the front row with the horse's legs framing it? How would the goat know that the line of its back had to be parallel to the ones of the two horses? Was it a coincidence that the rooster in Untitled # 3 positioned itself right below the middle axis of the bull's head? Miraculously, they all fell into place or into the places we usually occupy in standardized group photos.
In the "Artist Statement" on his website, Macinnis mentions a challenge formulated by his "smarter older brother," namely to look at a word without reading it, or to rephrase the impossible task in the context of this paper, to talk about photographs without talking about ourselves. Since his youth, Macinnis has obviously been struggling with the Kantian problem of conceiving a world beyond our specific filters of perception. What would "anti-photographs of animals" (Macinnis, Artist Statement) look like, photos that register the 'real', alien and unobtainable, physical nature of animals without the superimposed layers of our neural constructions? For better or worse, the artist seems to have decided to, at least, make the filters visible.
If I made them look like us, simply by virtue of my sharp aim, my repetitive and singular approach, my stylish bag of photo tricks, what would be the reflection?

(Macinnis, Artist Statement)
And so we return to us humans and our irresistible urge to read the words presented to us.
In my reading, Macinnis' animal photography makes one painfully aware of the disciplinary nature of the photographic act. Posing and freezing in front of the camera is a cultural practice that had to be learnt and appropriated. Quotes like the following referring to the beginnings of photography may prove that.
Clamped in a head-rest, the sitter sat motionless. Thus posed, he would regard last-minute adjustments with much the same feeling of distrust as he would those of a dentist. His breathing would become heavier and quicker as the critical moment of uncapping the lens drew near, his heart would beat visibly beneath his waistcoat, and a hazy film seemed to form before his eyes. Just when he felt least like it, he was asked to put on a pleasant smile. The operator counted the seconds.

(Gernsheim 1991, 26)
Of course, these were special conditions owing to the long exposure times of the camera in the 1840s, but Gernsheim's description perfectly illustrates the physical impact of the photographic procedure on the model. Standing motionless, fixed by head-rests, often exposed to shrill light, caused bodily reactions of stress and panic. The procedure affected the model's breathing, his heartbeat, the tension in his muscles, his eyesight, and his physiognomy. While final adjustments to the machine were made, he felt subjected to an unpleasant and threatening process. To cope with this bodily discomfort and unease required discipline and endurance on the part of the sitter. The outcome would, hopefully, be an impressive image. The quote also mentions the 'pleasant smile' the person had to put on, signifying the psychological aspect of the disciplinary process. Apart from the challenge of repressing bodily stress symptoms, the model had to project an image of himself as the powerful and prominent individual of the 19th century. As general agreement had it, the benefits of this new technology would outweigh the effort of contorting the body and mind in order to make a good photographic subject. However, the well-off bourgeoisie were not totally unaccustomed to sitting out long tedious sessions in order to have their portraits done by a painter. That process obviously also took its bodily toll and bore hard on the sitter, but was a somewhat relaxed process in comparison. No one counted the seconds; the artist working on the canvas was approachable and open to revisions. One did not feel at the mercy of a machine and its ruthless tendency to deliver an unfavourable image of oneself.
By looking at Macinnis' fully disciplined animal models, one realizes how much of our own unruliness we had to give up to fit into the photographic system. Of course, we also know that animals would never ever comply in this way. Macinnis' trick is to photograph the individual animals separately and then stitch them together digitally. It is the same procedure that Annie Leibovitz also uses for her 'star-studded' group portraits. This method of photographing a background first and then fitting in the separately photographed people was already introduced by O.G. Rejlander and Henri Peach Robinson in the 19th century. Their composite pictures were based on Rejlander's 'combination printing'. Interestingly enough, it was again a disciplinary issue which led to the invention of this technique. In the 1860s, it was still impossible to have more protagonists with complex poses in one photograph. One or the other of them would have certainly moved and spoiled the picture. Combination printing allowed for maximum control of the image. The single protagonists pinned to a previously photographed background were as pacified as Macinnis' goats and sheep and designed as castrated cut-outs with no more power to stir up the photographic setting.
Speaking of country life, Robinson's perfect photo tableaux Autumn (1864) was supposed to reflect the seasons in nature and presented an idyllic and aestheticized view of nature. Unfortunately, the main personnel of these images, the country maidens, the female blue-collar workers of farm life so to say, turned out to be too clumsy for this refined job and had to be replaced by models from the city who had the necessary discipline and professionalism to live up to the expectations of the camera.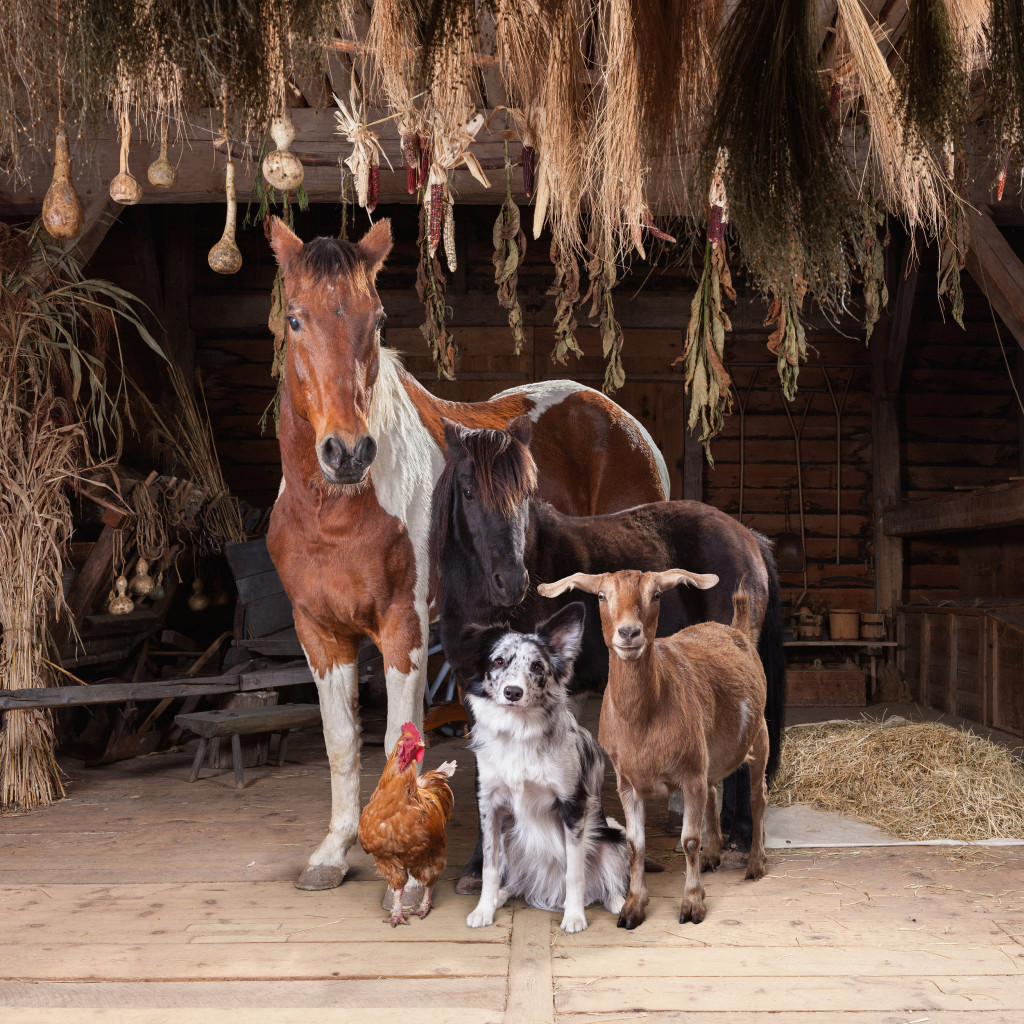 References
Gernsheim, H. 1991. Creative Photography. Aesthetic Trends 1839 – 1960. New York: Dover Publications, Inc.
Macinnis, R. Artist Statement. Accessed April 22. Available online here.
Watts, K. J. 2010. Behind the Scenes: Looking Fabulous in Fur. New York Times 'Lens' Photoblog (January 1, 2010). Accessed April 22. Available online here.