Despite its attested ambivalence in society, a photograph is still largely understood as a document – a document of an event, of an object, or of a situation. But since art has always sought different perspectives and possibilities of using visual tools, a part of contemporary photography created for a gallery or art context is being directed into a different treatment of images and the connections between them. If the dominant visual culture usually expresses the message of a photo unambiguously, photographers in the world of art often seek unconventional narrative approaches. A contemporary photograph will not necessarily address the viewer by repeating a motive or by telling a linear story; rather, a single work will connect numerous motives, formal approaches and ways of presentation into a unified narrative set. The photographer Vanja Bučan (1973) abides by such a principle and always manages to maintain at least some recognizable expressions despite her various procedures. Her practice is visually rich, carrying complex meanings yet also associations. She chooses not to directly reflect the collective and individual everyday but depicts universal existentialist motives where the social perspective is usually shown through metaphors and allegories. In the centre of her work, she puts the relationship between culture and nature and between human and their environment, as well as the ontology of image in mass media circulation.
Bučan began working with photography during its key technical schisms when the dominant flow finally turned in favour of digital technology, bringing about many substantive changes in the creation as well as in the reading of images. In the first decade of the 21st century, the production, manipulation and distribution of images became simple and as mundane as never before. Consequently, the users and the creators of these images – more and more often both in one person – have discovered multiple new ways of expression. The democratization of photography and its diffusion have left significant traces also in art. In her early creative period, Vanja Bučan produced completely documentary cycles, depicting glimpses into lives of urban artist groups. Gradually, her photographs began toying with the viewer's perception and pointing towards fundamental questions of contemporary reality: the thin line between culture and nature, the (un)awareness of humankind, the collective pathologies and memories, the dominant visual culture and its influence on the environment in which it is created and distributed.
Vanja Bučan entered the field of art relatively late: after studying sociology at the Faculty of Social Sciences in Ljubljana and after a few years of actively pursuing a career in humanitarian work in the non-governmental sector. In 2004, she appeared at the finalists' exhibition of Emzin's Photography of the Year in Cankarjev dom; her black-and-white photographs showed children at play from unusual perspectives. In 2005, she was accepted to study photography at the Royal Academy of Art in The Hague, the Netherlands, where she practically started all over again. Being 30 years of age and having a past life, her starting position was significantly different from many of her colleagues.
Undoubtedly, the past carrier and the change in her cultural environment importantly influenced her work but, as she says, analogue black-and-white photography was her initial fascination and she happily worked away at it in the darkroom; the academy labeled her as a documentarist due to her experience in humanitarian work, her knowledge of social margins, and her pedigree in social sciences. After three years of study, the changes in photography lead to the school darkroom being cancelled and the students were forced to switch to the digital medium. Interestingly, this change was freeing. In her first works – created during her studies and, she adds, under the watchful eye of her mentors – she tried to put forward a clear story. Yet, the beginnings of staged photography already started emerging, soon to completely replace the documentary approach. The series Fools and Follies (2009), for example, depicts a dynamic commune of artists in various disciplines, yet Bučan did not shoot the ADM squat in the suburbs of Amsterdam as a classic photo essay but rather through (self-)staged portraits of the protagonists. At the time, she was part of this world, which makes her documentarism non-invasive and intimate. Her work cannot be described as socially engaged as her protagonists are voluntarily pursuing a lifestyle on the margins.
When she graduated in 2010, she was awarded the Dutch scholarship that provides aspiring artists with a soft landing in the competitive world of art and creative industries. After this program, in 2011, she joined the Urban Furrows project team, a part of Maribor, European Capital of Culture 2012, where she was in charge of the visual campaign of the project encouraging the sustainable development of the countryside. Having complete creative freedom in her work, it was here that staged photography conclusively and irrevocably overtook her practice.
Created in this period was the landmark series Placebo (2011– 2012) which plays with the relationship between the artificial, man-made world and natural environment. The author speaks of these images as allegories where human figures are reduced to mere objects that do not carry social functions. In much the same way that a human often experiences nature as an object of his or her own desire, so does Bučan transform the human figure as an object in the natural environment. Her photos combine images of artificial materials mimicking patterns from nature with compositions from the natural environment that testify to the submission, preservation and aestheticization of nature. These processes always require human intervention, as it is the human who, aided by culture, defines the meaning of nature and subjugates it to his own image.
Her numerous works therefore show the powerlessness of an individual unable to escape the up-and-running system of changing and exploiting nature, even though they might not agree with it in principle. At the moment, human is undeniably the most invasive species of the planet, as its will, labor or money can arrange nature to suit its needs, which can be seen in carefully designed flower arrangements, parks, botanical and zoological gardens. In her photographs, Bučan often depicts the commercialization of nature that is becoming a matter of culture. In the Anthropocene, humankind has set up and become a prisoner of a complicated value system where competing with nature meets the admiration of it. There is namely nobody who can completely escape humanistic or anthropocentric postulates.
In the Studies of Tension (2012) series, Bučan concentrates on images of people and animals marked by physical and psychical tensions which consequently leave traces on their (imperfect) bodies. By doing so, she questions the processes of establishing and disseminating beauty ideals that are a construct of visual culture and therefore burden the majority of the population with aesthetical normativity and expectations. An imperfect, aged or handicapped body has no space in the dominantly visual culture of today – a fact demonstrated by the mass media and the rules of numerous web platform providers that censor not only nudity and sexuality but also manifestations of non-normativity.
However, each portrait has a social role as it testifies (or may testify) of the background of the portrayed person. Since Bučan claims that she does not wish to exploit anybody with her photographs and avoids presenting people as subjects, her next monumental work was directed into representing the body as such, disregarding the identity of the people portrayed. The Anatomy of False Memories (2015) series, where the body became the central element, tried to stage her dreams. Human memory is namely a combination of various visual impulses – those that an individual actually lives as well as those that they internalize although they never happened. In this process, it is the photographic and cinematic images that play an extremely important role as they strongly influence how an individual accumulates memories.
Photographs from the Sequences of Truth and Deception (2015–) series were done in a similar fashion; the series has received multiple awards and has circulated widely through international exhibitions, festivals and publications. As the situation then did not allow for more demanding photo sessions as was her standard practice in her earlier projects, the author turned to a two-stage creative process. Firstly, she takes photographs with plant motives in botanical gardens, prints them onto wallpapers and uses them in the studio as the scenery in which she intervenes by including additional props and body parts. No aspect of these fairly simple mise-en-scènes ever tries to be perfect as error, in the words of their author, is their essential part; they, however, add an element of complete exclusion from time and space to the work. Despite escaping clear narration and purpose, these allegoric images are associative enough to point to a complex relationship between man and his environment. Conceived in a similar way is also Looking for Sadiq (2018) that was made while Bučan was travelling in Morocco, yet has no characteristics of a travelogue and instead features constructed compositions that summarize elements of intimate memories, perceptions and expectations.
In a related visual manner, the Mauerhasen (2017) series focused on the locations where the Berlin Wall once stood as a telling example of an artificially created barrier between people that represented a serious breach also in the (natural) space. Nowadays, parks and pedestrian areas can be found at multiple points of this former dividing line; nature – albeit under the watchful human eye – has once again reclaimed its territory. In this environment, Bučan sets performative photographs of bodies as a metaphor of human animalism. If the man has succeeded in forcing nature into submission, he is, like an animal, caught in his own system, (only) inside of which he can live and survive. People are limited by their living environment and comfort zones.
The photographs of Vanja Bučan follow a recognizable common thread yet they are extremely multilayered in their impulses and messages. The inconclusiveness of their meanings speaks of the always ambivalent human perception; in recent times, man has learned to read two-dimensional images and identify them as real world, which is always three-dimensional. Even though in the final stage, her work is always two-dimensional, as photographs are, the process of their creation will often lead her to play with the relationship between objects and their photographed image. A phenomenon such as the relationship between the real and the seeming provokes the perception of a viewer who perceives and accepts the world largely through images. Vanja Bučan's creative practice is therefore far from direct critical messages dealing with current political and social phenomena; far also from a linear narrativity that would rationally lead the viewer through images. Instead, her works require a considerable degree of cerebral activity and intuition in order to sense some of the fundamental questions of humankind in the Anthropocene. Under multiple layers of meaning, the artist is wondering where we are and where we are going. What is our connection to nature that we force into submission on the one hand and admire on the other?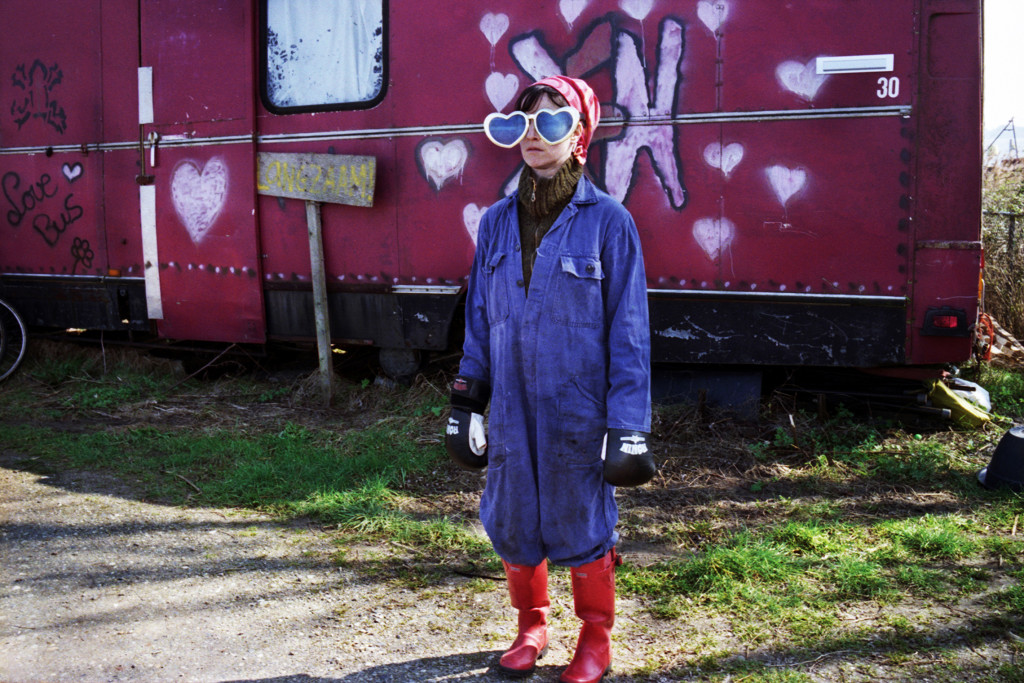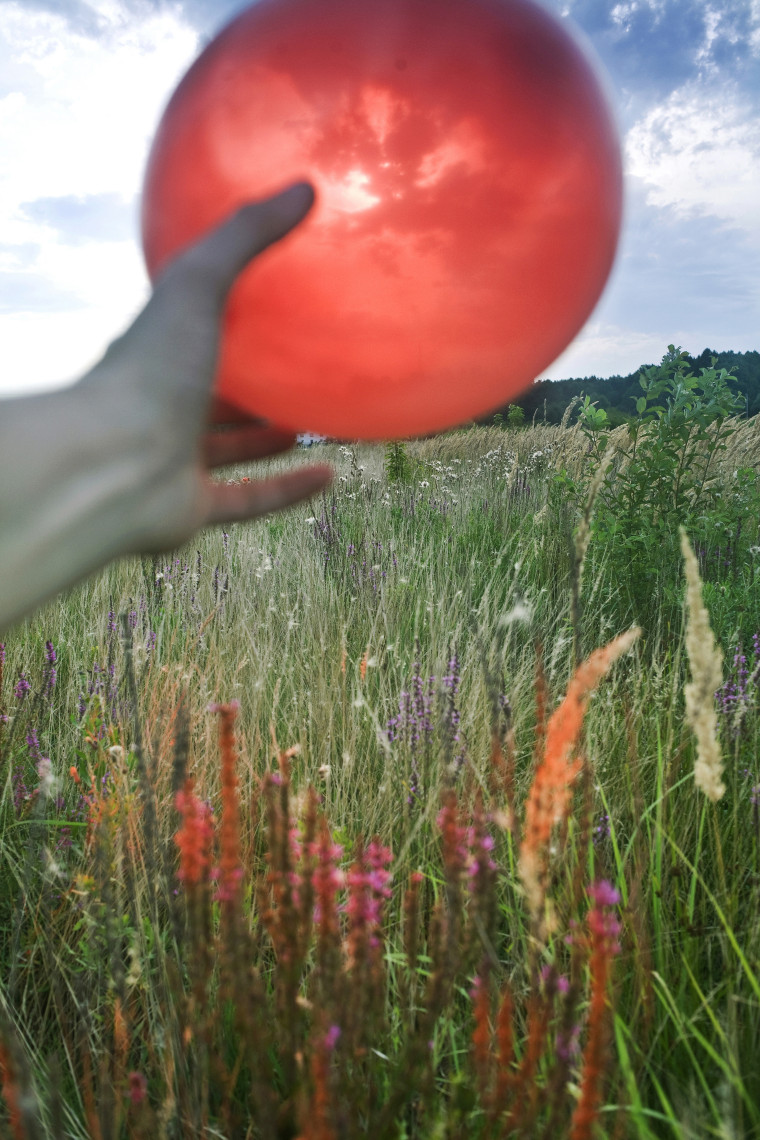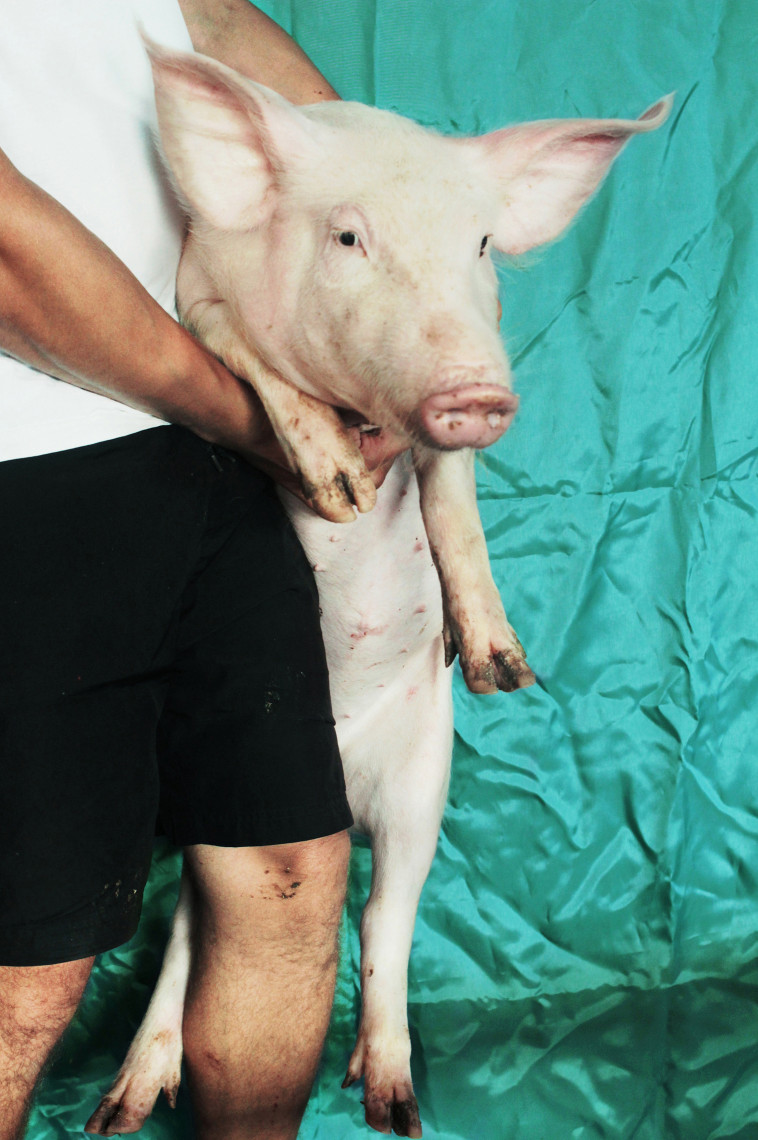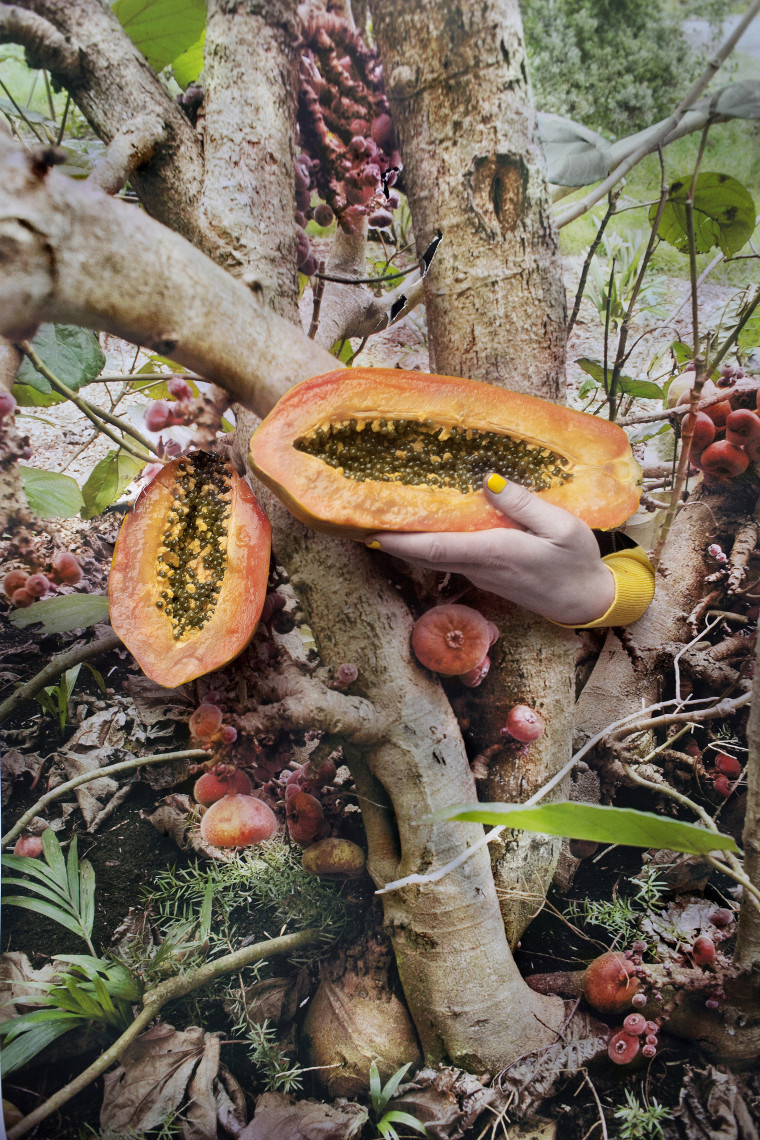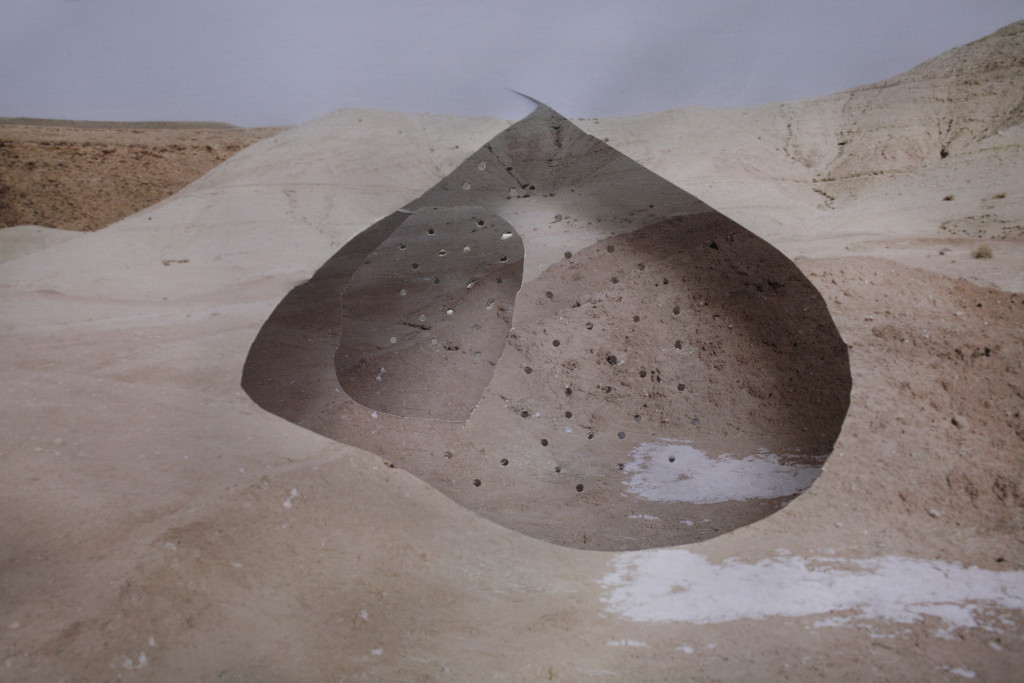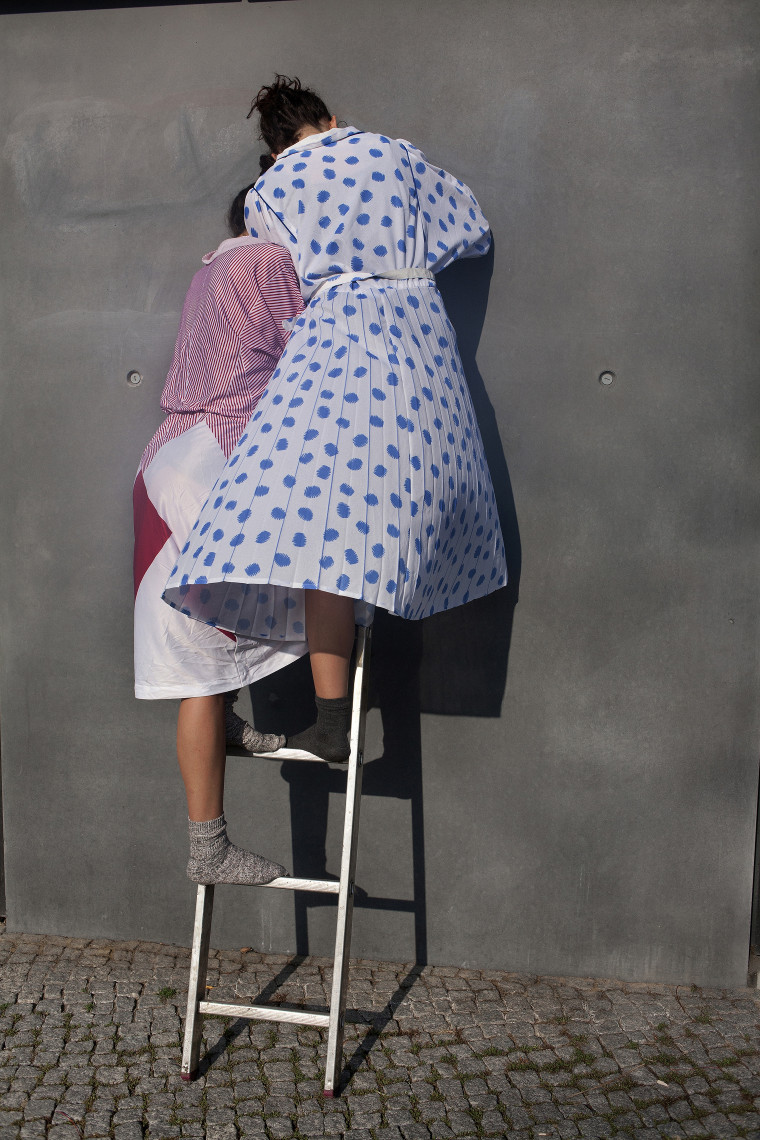 Translated by Sonja Benčina.