"Every conceivable object of Nature and Art will soon scale off its surface for us. Men will hunt all curious, beautiful, grand objects, as they hunt the cattle in South America, for their skins, and leave the carcasses as of little worth."
Collecting photographic images has for long stirred both interest and imagination of photographers, artists, photographic theorists, just as it did those of information loving intelligence officers, flea market loving amateurs and free market loving entrepreneurs. Contemporary proliferation of image production and sharing seems to have only intensified the practices of collecting, appropriating and curating of found, already existing images. The resulting amassments of images – either in forms of personal albums, institutionalised collections, server farms of social networks or archives of state institutions – are also amassments of narratives, of projections about societies and individuals, of attempts to limit the mere potentiality and contingency of meaning. In particular it was the archive – as a concept, a distinctive repressive social apparatus, and as a pool of (in)accessible images – that has for long been a focal point of theoretical and discursive contestations, creative artistic practices and critical appropriations. Membrana #3 reinvigorates these discussions from the perspective of ubiquitous photography and re-politicisation of social life in post-democratic societies through the metaphor of cabinet. For us, the notion of the cabinet has multiple meanings and can be seen as a bureaucratic image storage and retrieval system, an image display surface, a desktop icon or an Wunderkammer-ish collection of wonders and curiosities and can be approached literally or metaphorically.
The 'eyes' made available in modern technological sciences shatter any idea of passive vision; these prosthetic devices show us that all eyes, including our own organic ones, are active perceptual systems, building on translations and specific ways of seeing, that is, ways of life. – Donna Haraway
The images that make up the project presented here are very much part of "the technical universe of images" Flusser has identified in his book [Into the Universe of Technical Images]. They were taken over a period of two years with an automated "intelligent" wearable camera called the Autographer. The artist wore the camera in various everyday situations: on a city walk, in a holiday resort, in an art gallery, in a lecture theatre, at home. The machinic behaviour was nevertheless influenced by the way her body moved, enacting a form of immersive, corporeal perception that broke with the linearity of perspectival vision and its representationalist ambitions, while also retaining human involvement in the multiple acts of image capture. The human element was also foregrounded in the subsequent editing activities: Zylinska was faced with over 18,000 images from which she chose several dozen. Active Perceptual Systems thus raises the question of whether the creative photographer can be seen as first and foremost an editor: a Flusserian in-former who provides structure to the imagistic flow after the images have been taken.
It was with the tools of obliteration that archives – the memory of the obliteration – had to be obliterated. It was a way of keeping the obliteration forever in its unimaginable condition. – Georges Didi-Huberman
The photo essay illustrates the politics of missing visuals from the public domain and analysis of the artist's book Bin Laden Situation Room. The book is a reaction to the photograph issued on 2 May 2011 by the American government at the time of Bin Laden's execution. The image taken by the official White House photographer Pete Souza, depicts president Barack Obama and his national security team witnessing the execution of Osama Bin Laden, the leader of the Islamic militant organization, al-Qaeda. Apart from this the American government did not issue any other visual evidence of the event. The essay explores war strategies of keeping the visuals mute, and in doing so, controlling the public opinion. Photography that prides itself on representing and uncovering historical moments, completely fails here. The book Bin Laden Situation Room, attempts to look for what the image fails to show. The essay examines the visibility and invisibility of frames of references and power to see and not see.
All of this is a way of saying that it is difficult to imagine a serious practice of documentary that doesn't have a grasp of the social processes shaping our time.
Steve Edwards teaches history and theory of photography and is a fiery, self-described "radical from a working-class background", "post-Trotskyist" and "socialist feminist", who reads "Marx and more Marx". We met in 2016 in Lisbon at an academic conference on Photography and the Left, where he was one of the keynote speakers. Edwards' paper tracked the changes in relation to the Left and the documentary movement in Britain from the 1970s to the present day, his argument consisting in that documentary and social class are closely entwined. This interview, done at Birkbeck, University of London, which he joined as a Professor at the beginning of this academic year, revisits the main themes of what was, in many ways, an enlightening and inspiring talk. Using the two terms – Photography and the Left – to frame and anchor the discussion, our exchange covers Edwards' political education, the 1970s emergence of a key period in visual theory and subsequent mutations in political visual practice, up to its present status in a neoliberal society and the forms and intellectual basis of contemporary resistance to it. Although the exchange is centred on the British context, it is done so, however, with total awareness of it being an instance among others of documentary photography's many global manifestations. It is with these manifestations that this interview aims to enter into dialogue, through its publication in a magazine with a global audience such as Membrana's.
You can lose a photograph by overthinking about its source.
In August 2015, photographers Peter Rauch and Peter Koštrun took up the roles of curators at the Celje FOKUS Festival. At the exhibition, which they named Sondiranje (Probing), they compiled a collection of photographs of foreign, anonymous and unknown authors. The collection consists of artifacts collected by the authors in their archives over the years and was, upon receiving the invitation to participate, selected on the basis of their fascination with these artifacts. At one point in time, all the photos served their particular functions: advertising, family, propaganda, artistic expression, etc. The authors highlighted the alternative possibilities for interpreting such images, which may have, due to the time that has elapsed, been exempt from the first context because of  the past time, perhaps due to the lack of signatures or the manner of presentation. Their assumption was that engaging viewers would break up the long, uniquely justified ways of understanding photographic material. Visiting authors and collectors were also invited to participate.
These screenshots of the blue background interface crashing into multiple windows overwhelmed by the joy of corporeal indexicality are already digital archaeology, a testimony to an out-dated bureaucratic classificatory system of French colonial legacy, soon to disappear under the auspices of a new open access database.
Paula Roush: Sex'n'Database - A Corporeal Taxonomy.
Photograph by Marija Skočir.
Peter Koštrun and Peter Rauch: Probing. Photograph by Jaka Babnik.
Joanna Zylinska: from Active Perceptual Systems, 2014–2016.
Michał Greim: A Moldawan dwarf and a nobleman of the Podolian race from the Chocim region, 1870s-1880s, albumen print.
Chinar Shah: The Execution of Bin Laden in Images. Courtesy of Pete Souza.
Ivan Petrović: Documents, from the Vitak series, 1999.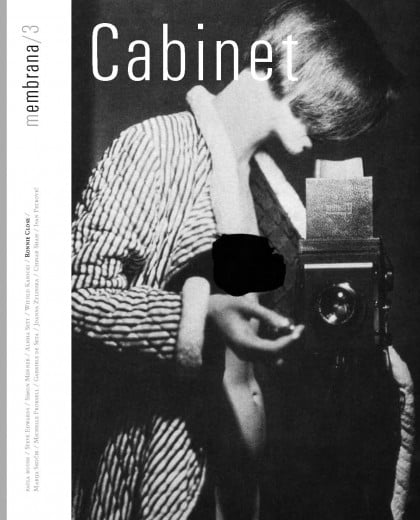 MEMBRANA 3 / 2017 • ISSN 2463-8501 • https://doi.org/10.47659/m3
publisher: Membrana, Maurerjeva 8, 1000 Ljubljana • tel.: +386 (0) 31 777 959
editorial board: Jan Babnik (editor-in-chief), Ilija T. Tomanić, Lenart Kučić, Emina Djukić • advisory board: Mark Curran, Witold Kanicki, Ana Peraica, Iza Pevec, Matej Sitar • assistances to editorial team: Iza Pevec
article contributors: Ronnie Close, Miha Colner, Steve Edwards, Nataša Ilec, Witold Kanicki, Peter Koštrun, Simon Menner, Andreia Alves de Oliveira, Iza Pevec, Ivan Petrović, Peter Rauch, Paula Roush, Michelle Proksell, Marija Skočir, Gabriele de Seta, Chinar Shah, Alisha Sett, Joana Zylinska
translations: Tom Smith • proofreading: Tom Smith
image & projects contributors: Jaka Babnik, Onur Ciddi, Alberto Frigo, Dagmar Kolatschny, Andrea Palašti, Simon Podgoršek, Urša Premik, Horațiu Șovăială, Mihai Șovăială
design: Primož Pislak
printing: R-Tisk • print-run: 500
all images and texts © Membrana, except when noted otherwise editorial photograph: Ronnie Close, from the series Parallax Error, courtesy of the author • last page photo from: Simon Menner, from the series Surveillance Complex – Images from the Secret Stasi Archives, courtesy of the author.